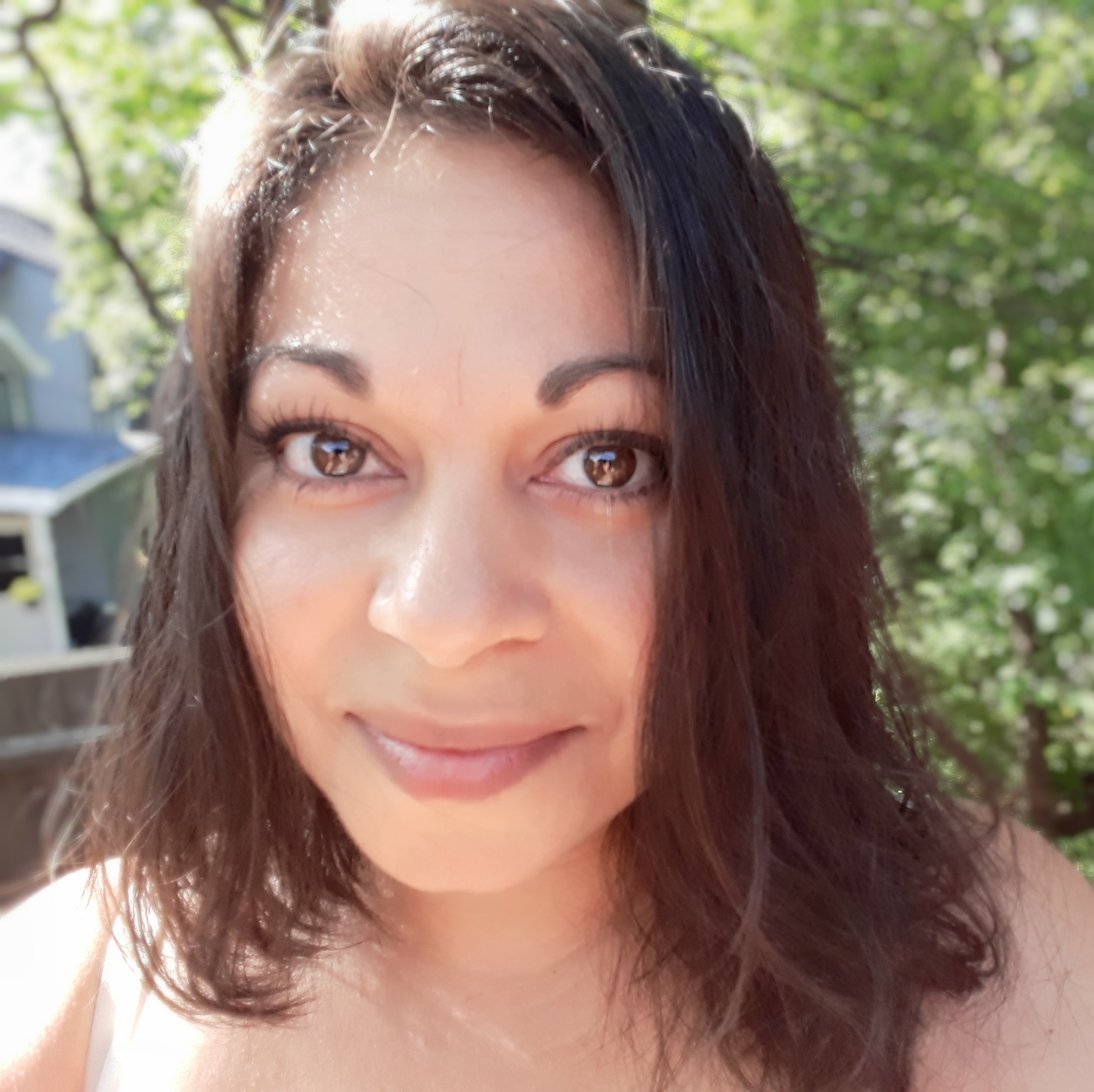 VI Owner, Foodie, Blogger & Planet Enthusiast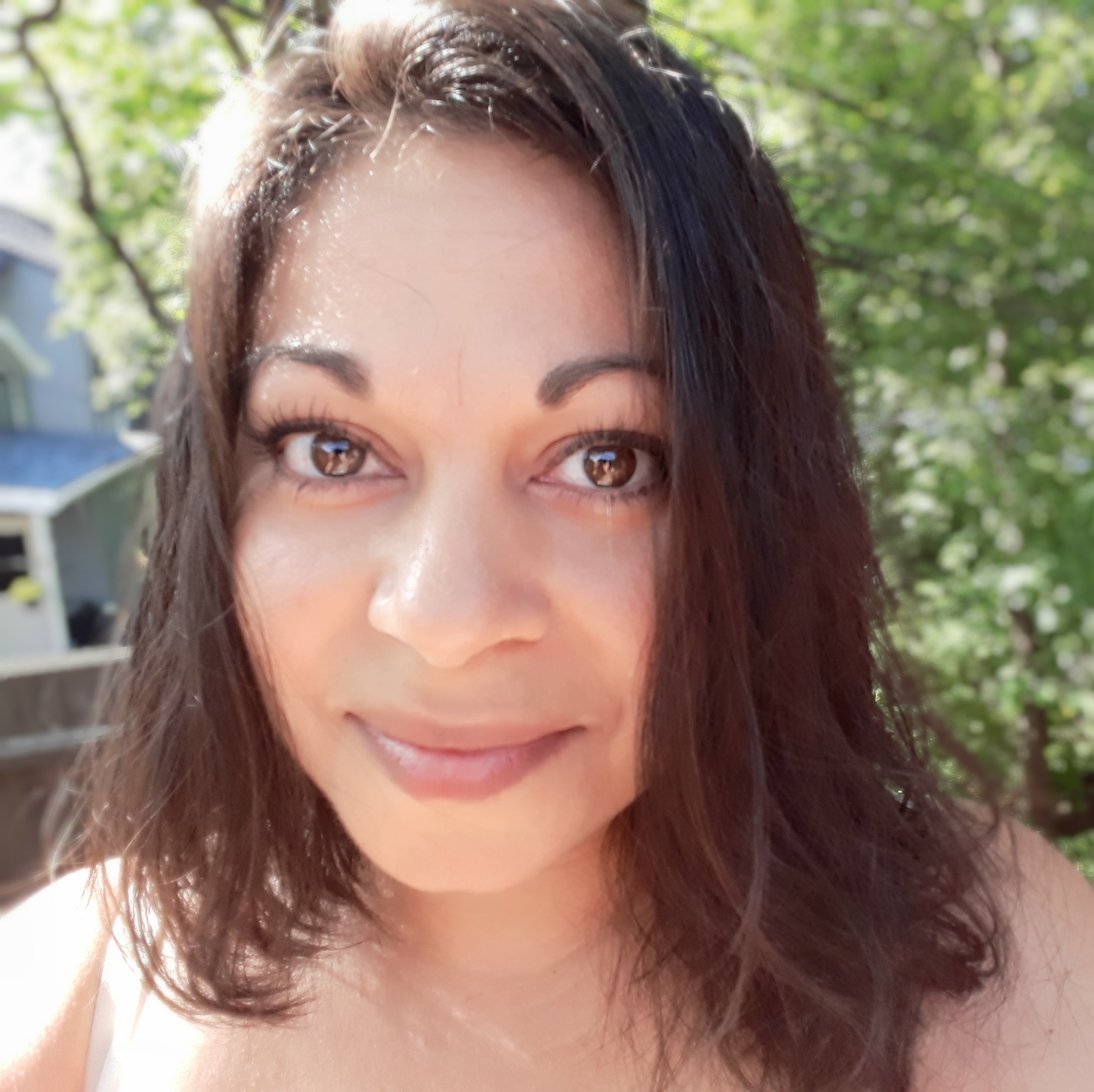 VI Owner, Foodie, Blogger & Planet Enthusiast
Good For:
Breakfast, Kids
For a while now, I've been looking for alternative breakfast ideas. I kind of got stuck on granola and yoghurt or milk, particularly in the UK where I could get a low sugar and non-honey granola from Dorset Cereals. Plus the UK had the best coconut yoghurt I've ever bought (this one), not too expensive and had a good balance of sugar and creaminess. The ones I've found do far in Canada have been either soo sweet or lack a good creaminess. and of course are crazy expensive. So, my challenge was to find something new that would also meet my gluten intolerance needs.
I've seen overnight oats so many times online, but it just looked like cold porridge to me, so I put it off for ages! So, now it's  time for me to tell you how wrong I was! I was shocked at just how wrong I was.
It's like a slightly chewy, creamy consistency, full of delicious sweet and savoury flavours (depending on what you add into your overnight oats). Not only that, but as you make it the night before, it's so easy to grab from the fridge in the morning when you're rushing around trying to get the kids sorted and dressed ready for work! It's perfect for Keith and me. He takes his to work and I sit curled up on the sofa whilst trying to open my eyes before I head to my office and get to work!
As these overnight oats easily last 3-4 days in the fridge, you can mix up as many as your largest bowl will make! I usually make 4 portions at a time, giving us enough for two days. These are adult portions (and bear in mind that Keith is 6ft5, so he has a bit more than one portion, and I have a little less). You may find for those who eat less (I'm tiny at 5ft2 – on a good day!), or for children, that one portion will go further.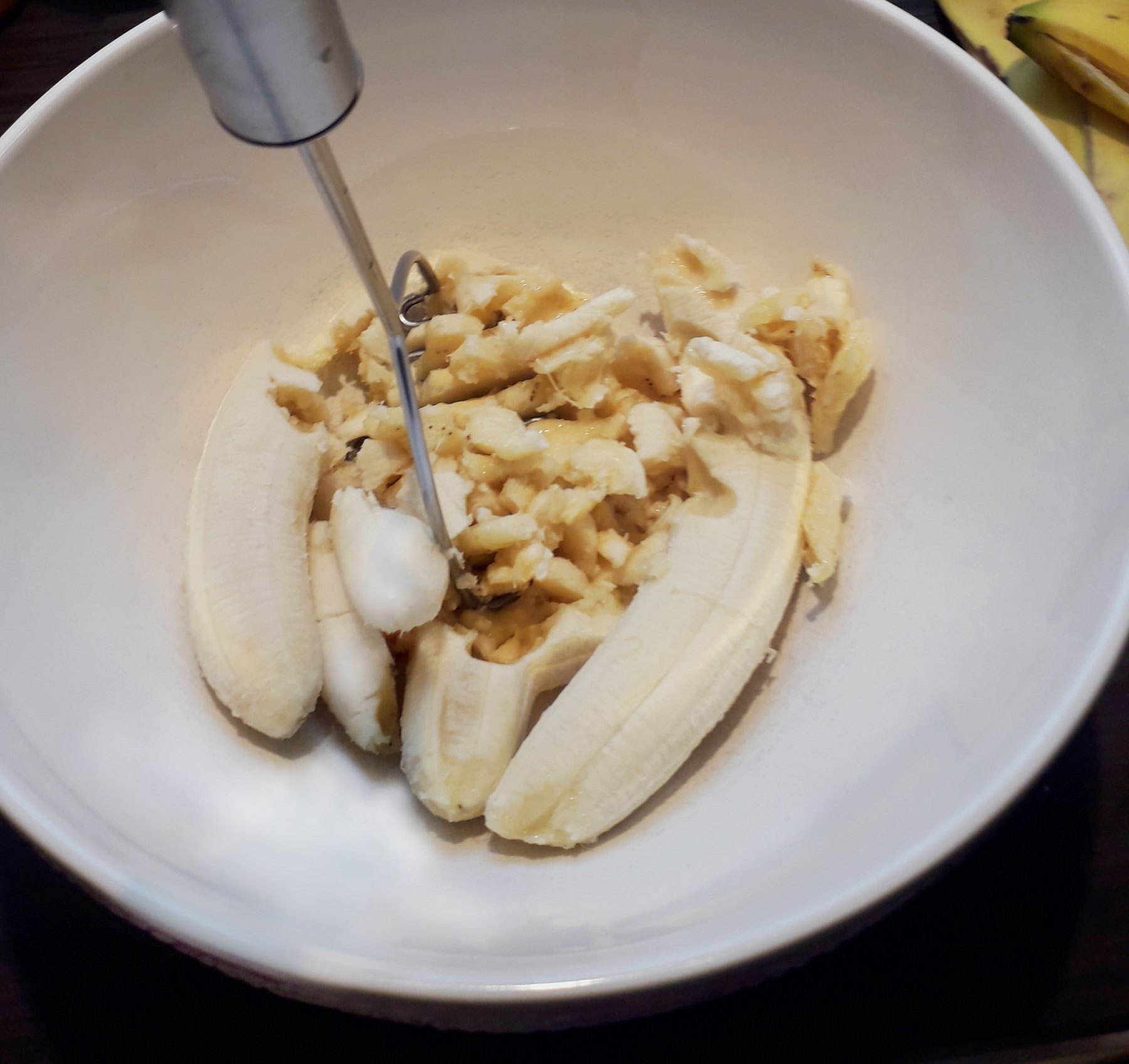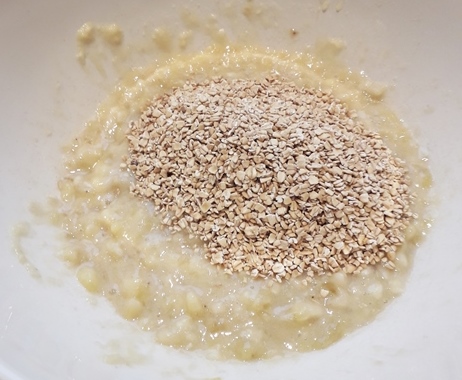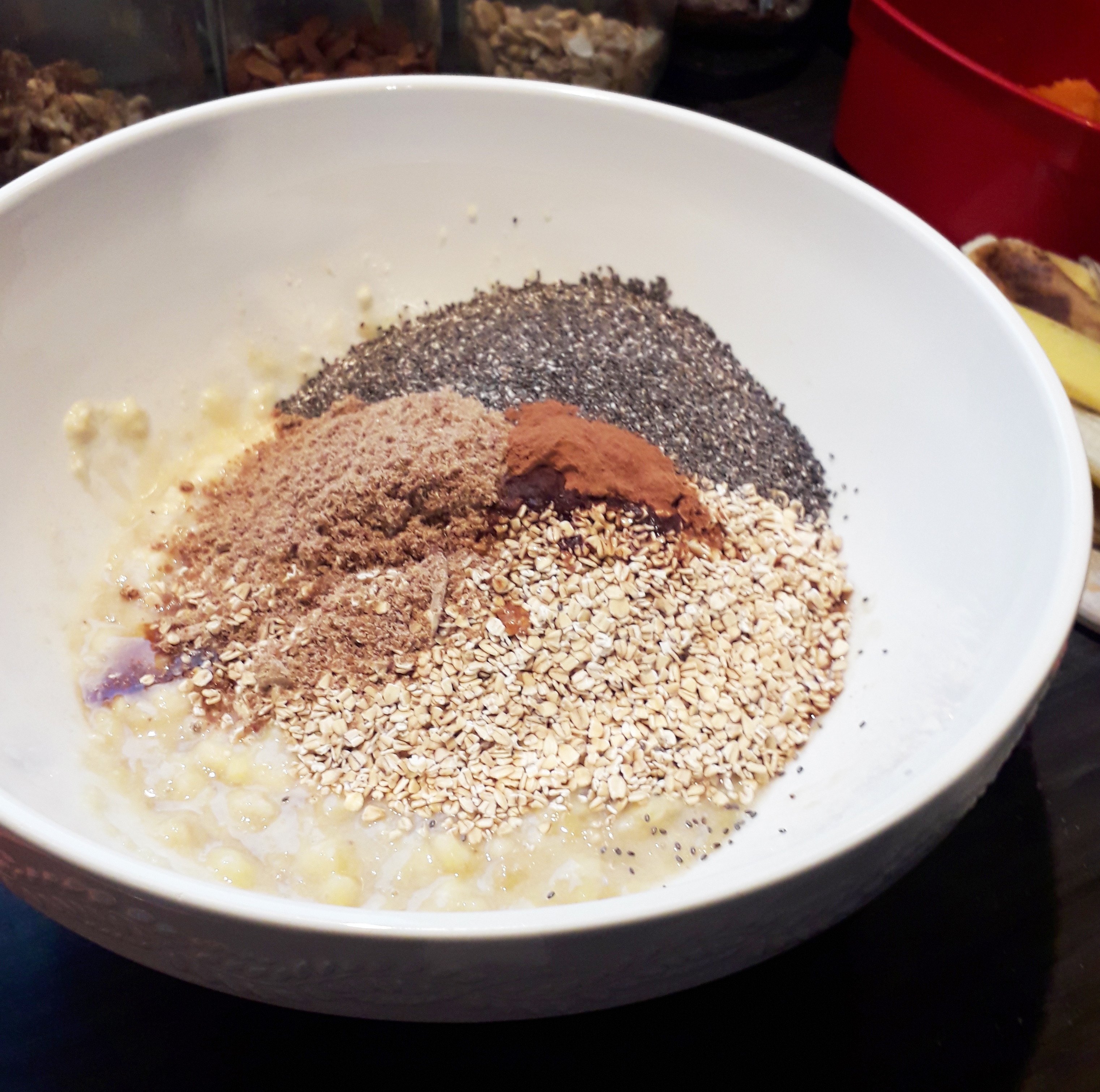 Get yourself a medium to large sized bowl and add your bananas (1 for each serving you are making, and if you can use really ripe bananas, that'll be easier and taste the best). Give them a good mash with a fork or potato masher. I prefer mine to have only small lumps so I usually mash for about a minute, but you don't need to at all. 
Next, add 1/2 a cup of oats per serving (don't mix in just yet).  I use steel cut oats because these are the healthiest you can get, but otherwise feel free to go for large whole rolled oats.
Now add on top: chia seeds, ground flax, ground cinnamon, vanilla essence/extract and maple syrup.
The next thing I do, to make sure the ingredients are well combined, is to gently mix the last ingredients together, then to slowly add in the oats, and then finally the bananas. You could do this is a separate bowl, but 'why give yourself extra washing up?' is what I'm always saying to Keith!
Next, it's time to add your plant-based milk. I tend to use soy milk for the extra protein, swapping from my former 'go-to' almond milk because of the huge natural resources almond milk uses to produce. I was never a fan of the taste of soy milk before but with all these flavours, you can't taste it here. I haven't tried oat milk but I assume it would be great and extra creamy in overnight oats! So, back to the mixing…here you really have to make sure that you get all the lumps out. I've mde that mistake before, and it doesn't taste great in the morning when you find those lumps!
Once you've fully stirred the milk in, you'll find that the mixture is quite sloppy. Don't worry about this as once the chia and flax have absorbed a lot of that, and it's been in the fridge overnight, it will thicken up beautifully. If you do prefer an evern creamier texture and less thick end result, just add in an extra 1/4 cup per portion.
Now all you need to do is add your chosen fruits. I almost always opt for mixed berries – because they are scrummy – and also because of their major health benefits (check this link out). 
So all you're left to do is scoop out the mixture and add it to sealable containers and then store then in the fridge, ready and waiting for you in the morning!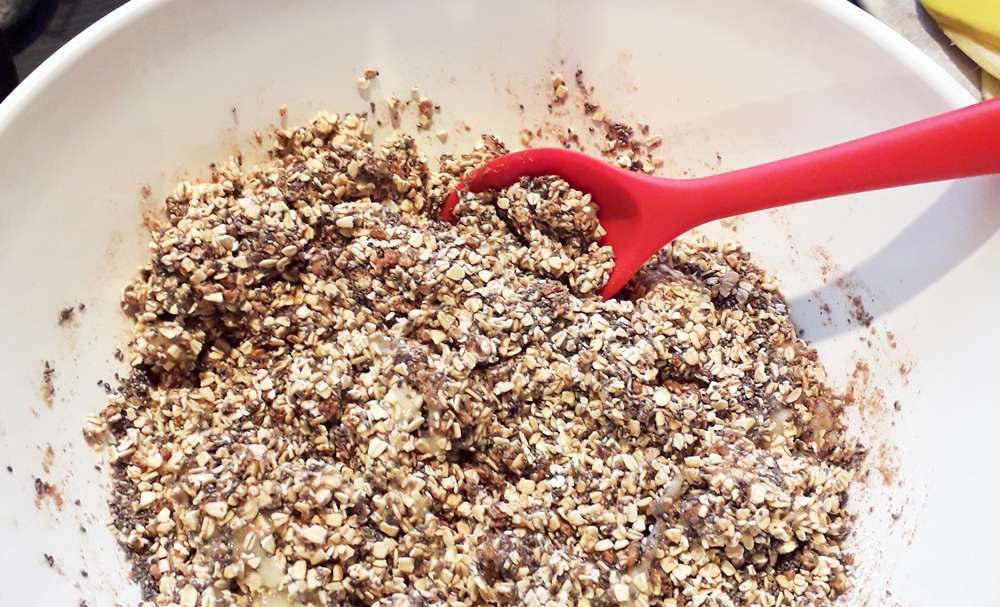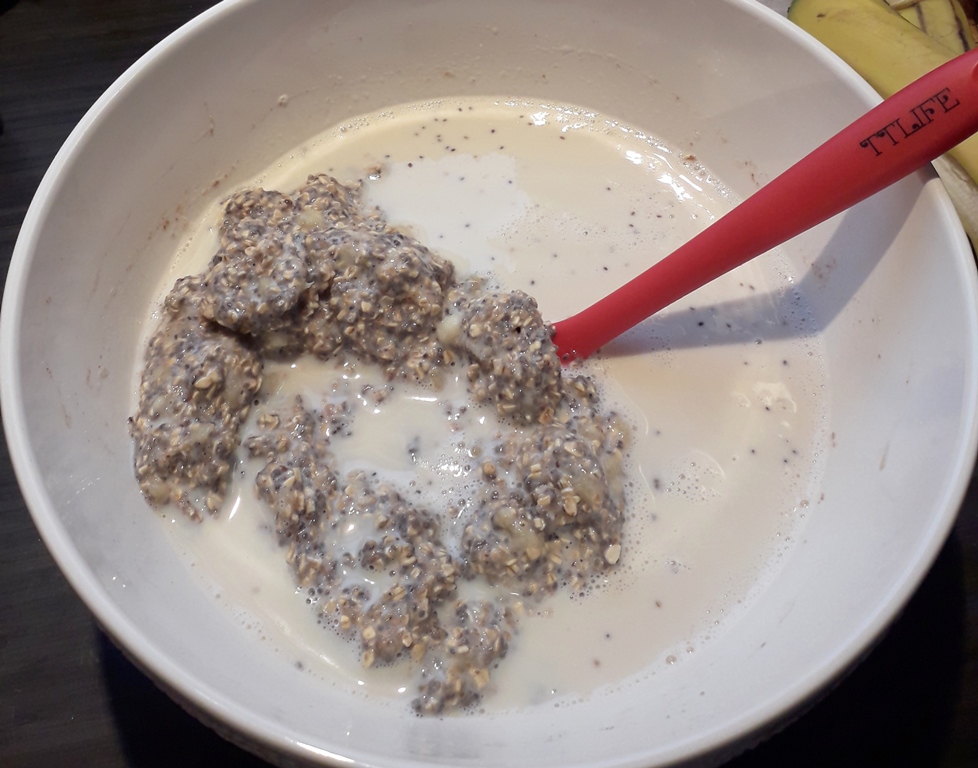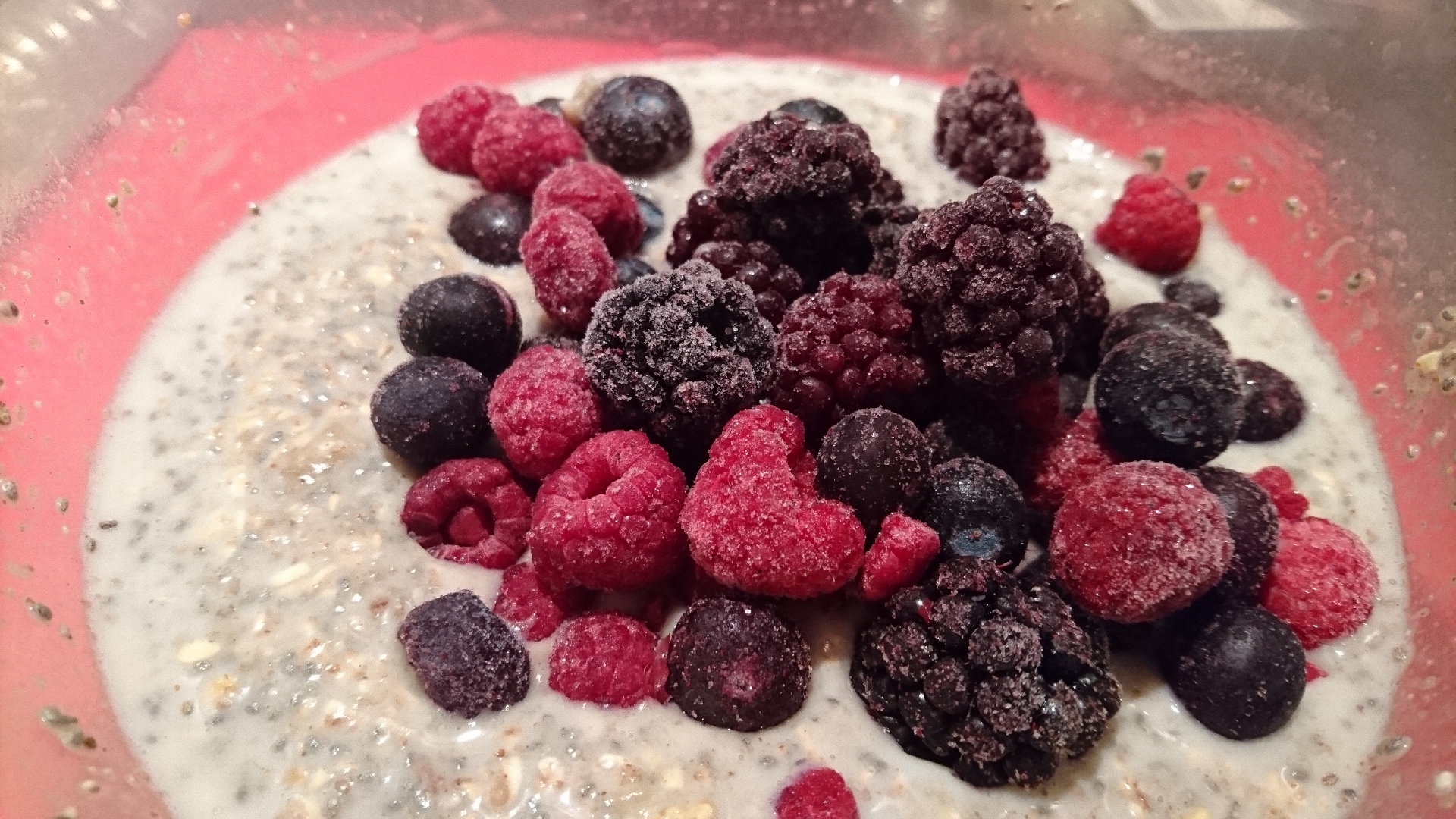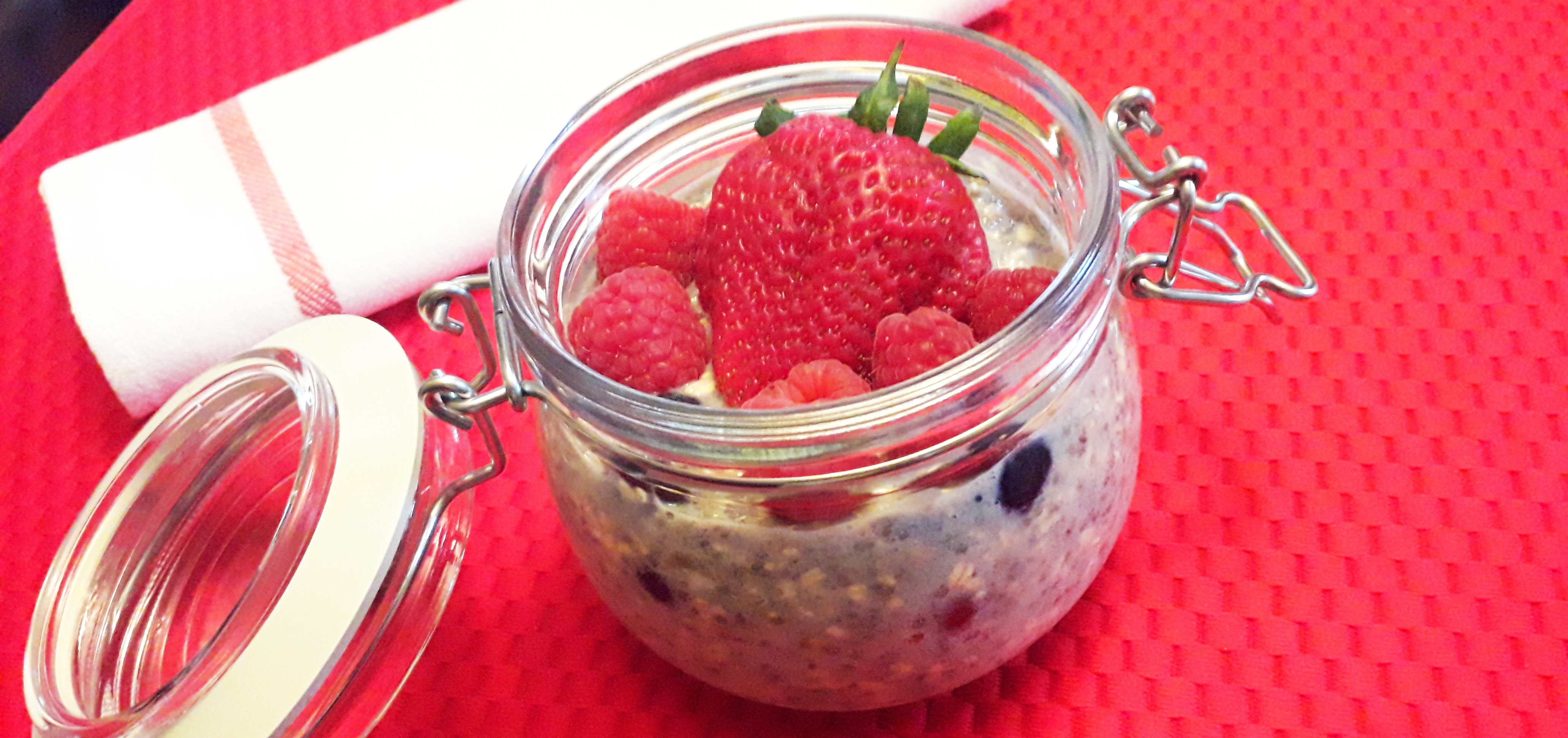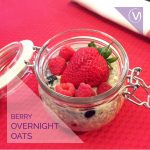 Print Recipe
Berry Overnight Oats
gluten free (use gf oats) | soy free (use soy-free milk) | nut free | WFPB
A delicious overnight oat breakfast with cinnamon, maple syrup and berries. Prep the evening before to escape the morning rush!
Ingredients
4

Ripe bananas

2

cups

Steel cut or rolled oats

8

tbsp

Chia seeds

4

tbsp

Ground flax seeds

1

tsp

Ground cinnamon

½

tsp

Vanilla essence

1½

tbsp

Maple syrup

3

cups

Unsweetened soymilk

or other plant-based milk

2

cups

Fresh or frozen berries
Instructions
Mash the bananas in a large bowl until gooey and all large lumps have gone.

Add the oats, chia, flax, cinnamon, vanilla and maple syrup. Mix gently without disturbing the bananas to ensure the ingredients are fully mixed.

Slowly combine the banana into the rest of the mixture.

Next, add your chosen milk and gently stir. This will need a bit of TLC as you break down the mixture and ensure that all lumps have been removed.

Stir in the berries.

Divide your mixture into a mason jar or small container with an airtight seal and pop into the fridge, ready for you to gobble down in the morning!
Notes
This recipe lends itself to putting in anything you fancy. Apple and cinnamon would be awesome as would chia, chocolate and a nut butter. Go to town and see what you can invent and let me know how you get on!
Please let me know how your Berry Overnight Oats turn out in the comments!
Let's keep in touch. Follow Vegan Inspire on Instagram & Facebook
Nutrition