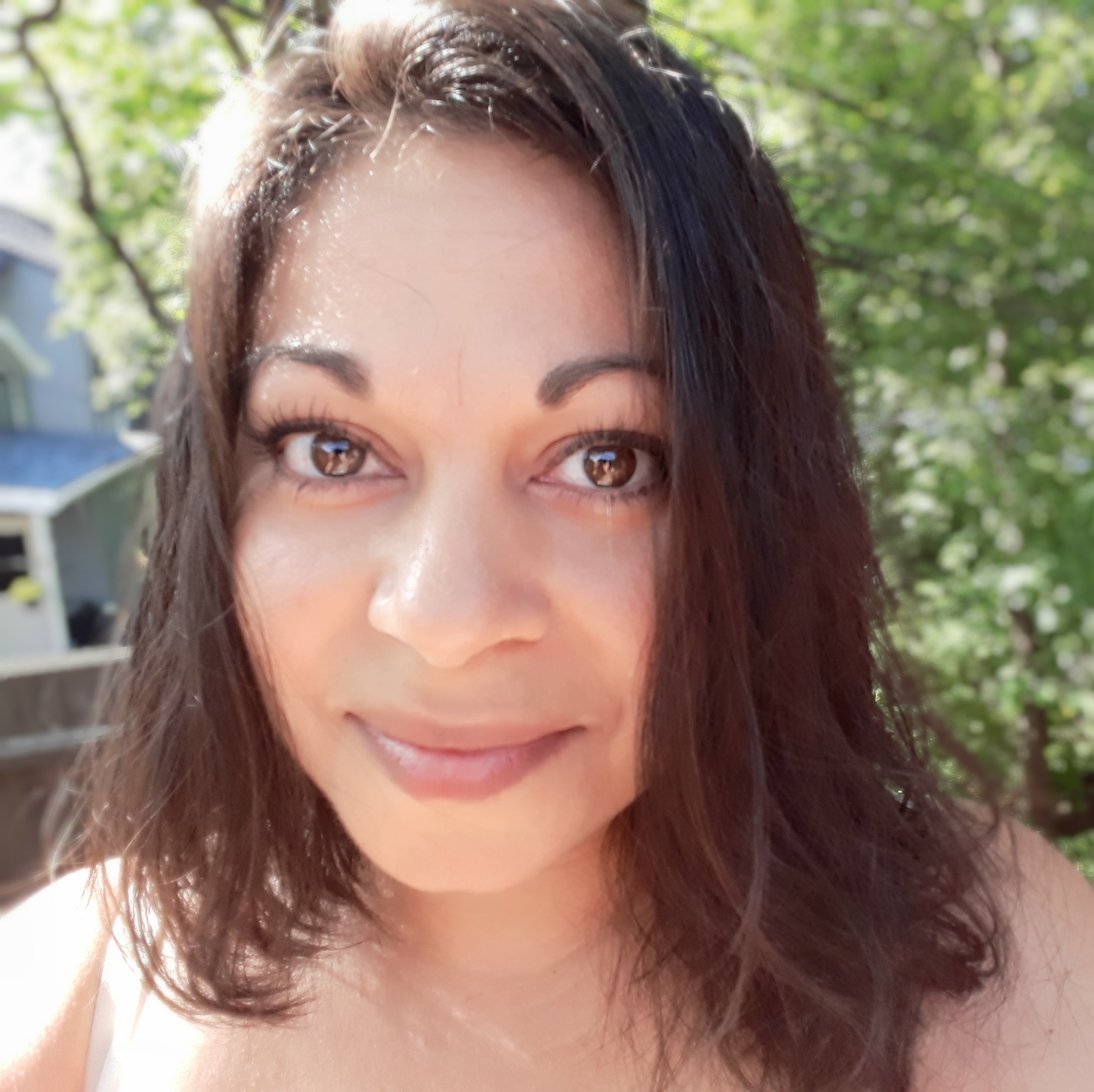 VI Owner, Foodie, Blogger & Planet Enthusiast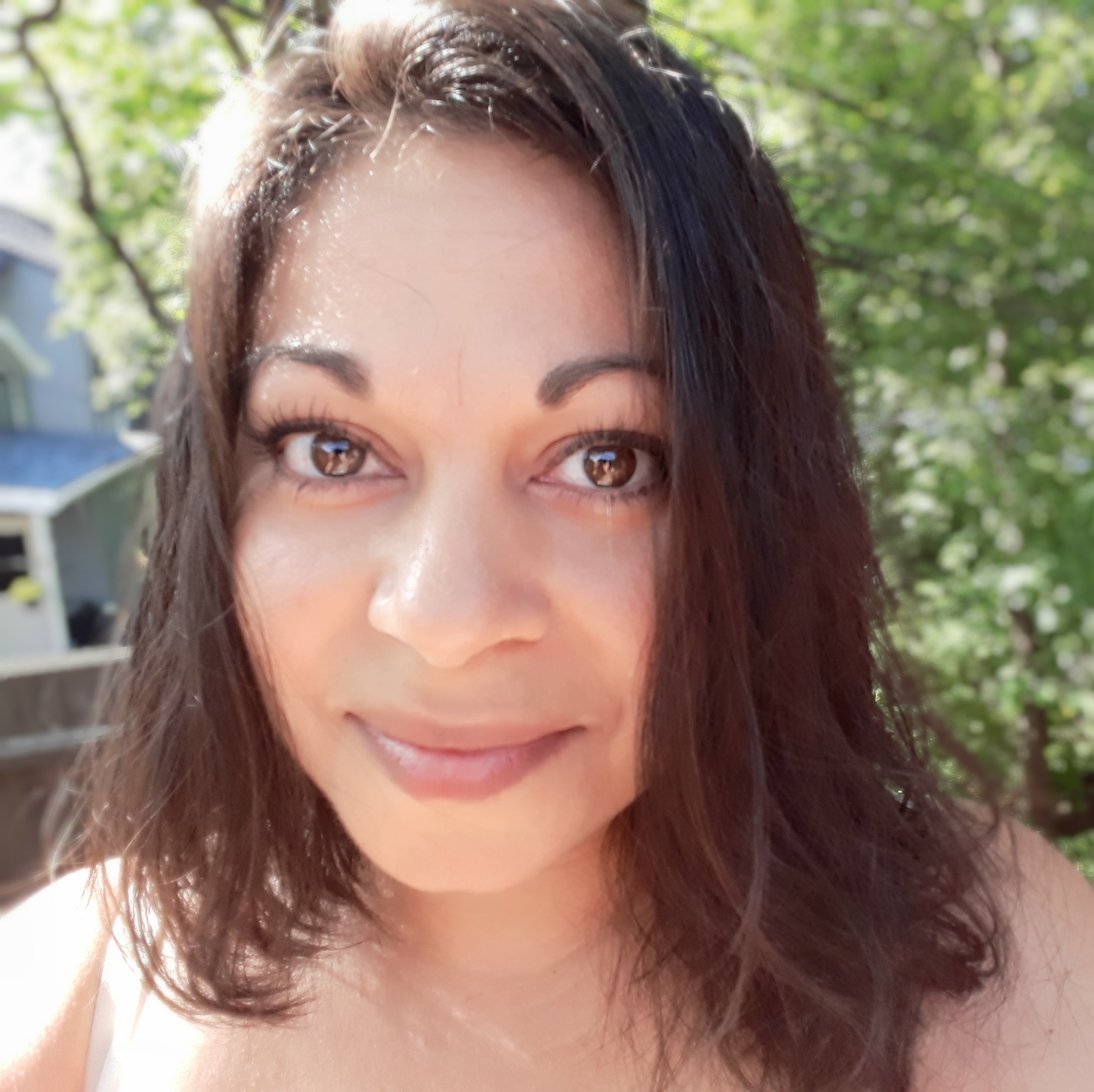 VI Owner, Foodie, Blogger & Planet Enthusiast
Good For:
Healthy Dinner, Kids
There are times in life when all you want to do is fill your belly with comfort food. You know those times, when you've had a difficult week, not enough sleep, good old PMT hits or just because the weather outside is dreary. And you know that getting healthy comfort food seems impossible (and why would you even want it right?). But today I am here to change your mind…you really can have your cake and eat it (except that this cake is actually meat(less) balls – sorry!)
These balls are packed full of all those good things we know we should be eating like black eyed peas, flax and quinoa and then crammed with flavour to make you come back for seconds. And if that wasn't enough, it's all topped off with a delicious sweet, rich marinara sauce.
These have definitely become a favourite with Keith and me and we've even taken them on our trips becuase they're easy to transport.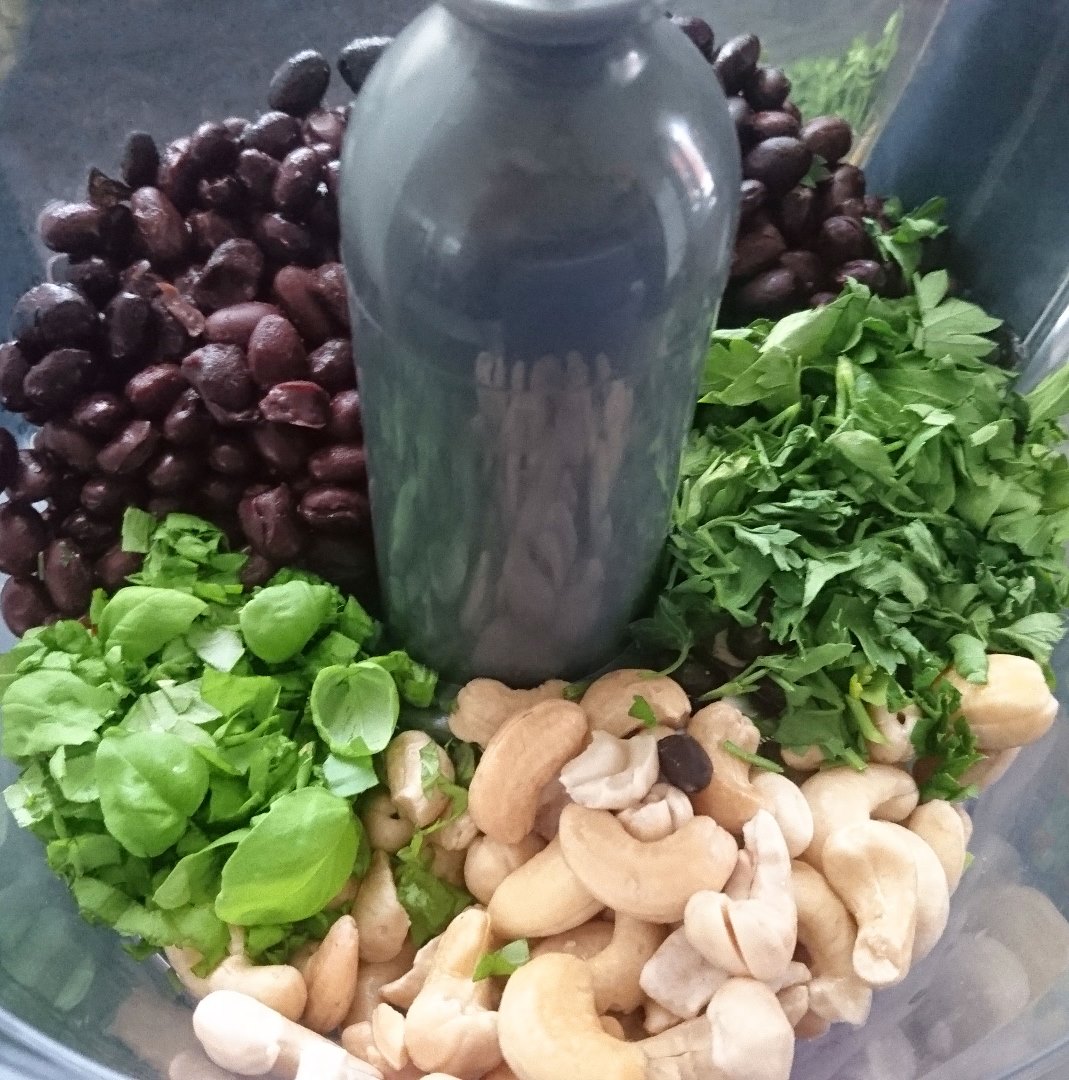 This recipe isn't complicated at all, although it takes a little bit of preparation to form the balls. It would be a great recipe for older children to help you with, especially when it comes to making the balls (who needs them to be perfectly round anyway?!)
There was a little bit of prep I needed to do before starting to put everything together. I cooked the quinoa and allowed it to cool down. I then drained the black beans and then dried them out. I used my microwave and cooked on full power for 5 minutes with no extra water. They split apart but this meant that they were really dry. This makes sure the meat(less) balls don't become stodgy at the end. n.b. if you don't have a microwave, you can also pop your beans into the oven.
Now I was ready to start by placing the cashews, beans, spring (green) onions, basil and parsley into a food processor, and processing! At this point, the mixture doesn't look that appetising and will form a reddish-brown lumpy paste. Have no fear; it gets better!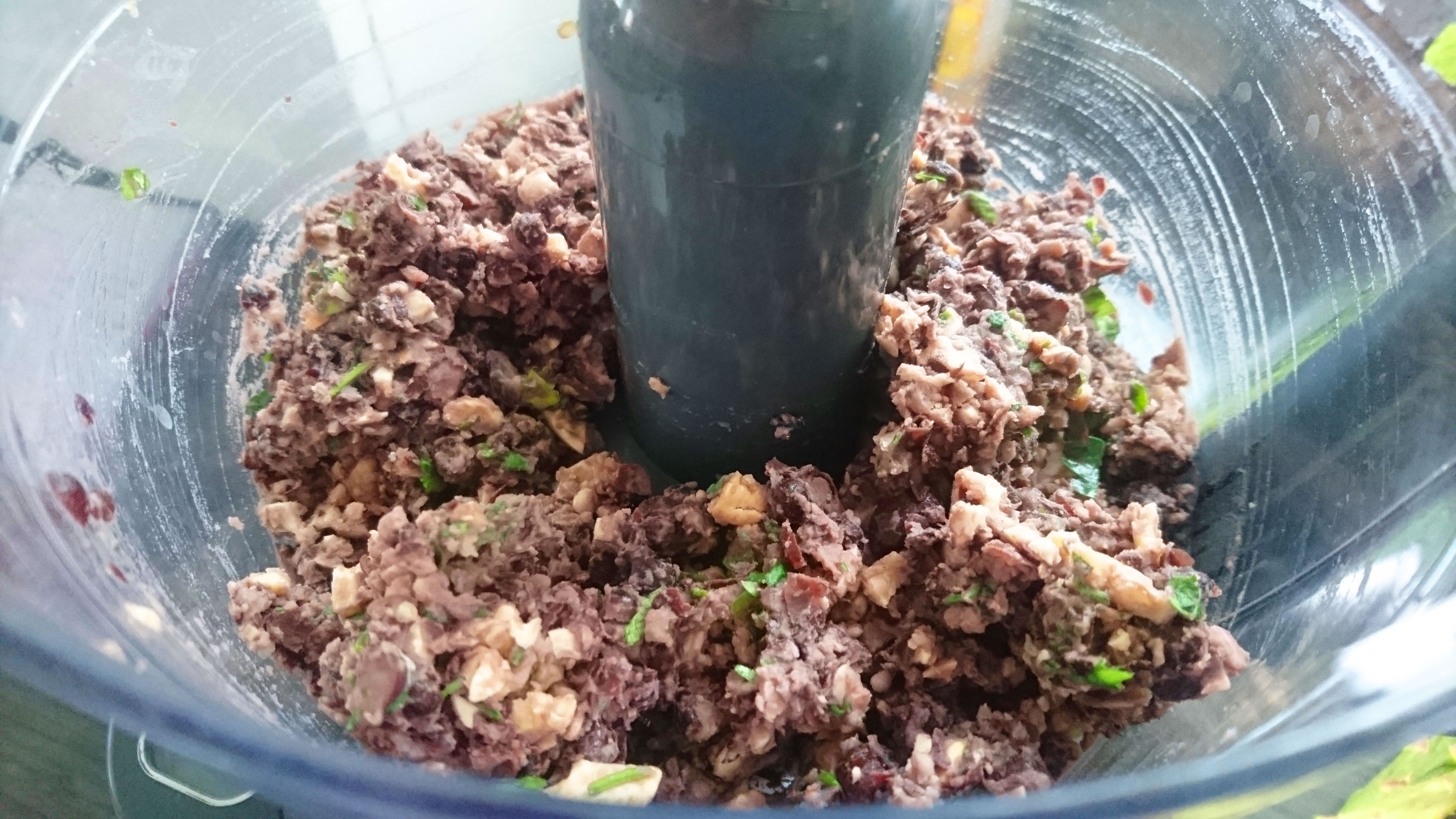 Throwing in the rest of the meat(less) ball ingredients and pulsing until everything was mixed, I was ready to form the balls!
Rolling the balls up with wet hands (to stop the mixture sticking), I placed the balls straight into a large frying pan. 
Frying them before popping them in the oven just helps to give the balls a nice crispy shell. If you can, use a non-stick pan and minimal oil.
I found the meat(less) balls needed between 20-25 minutes in the oven – but you be the judge becuase you don't want undercooked, and therefore, stodgy balls!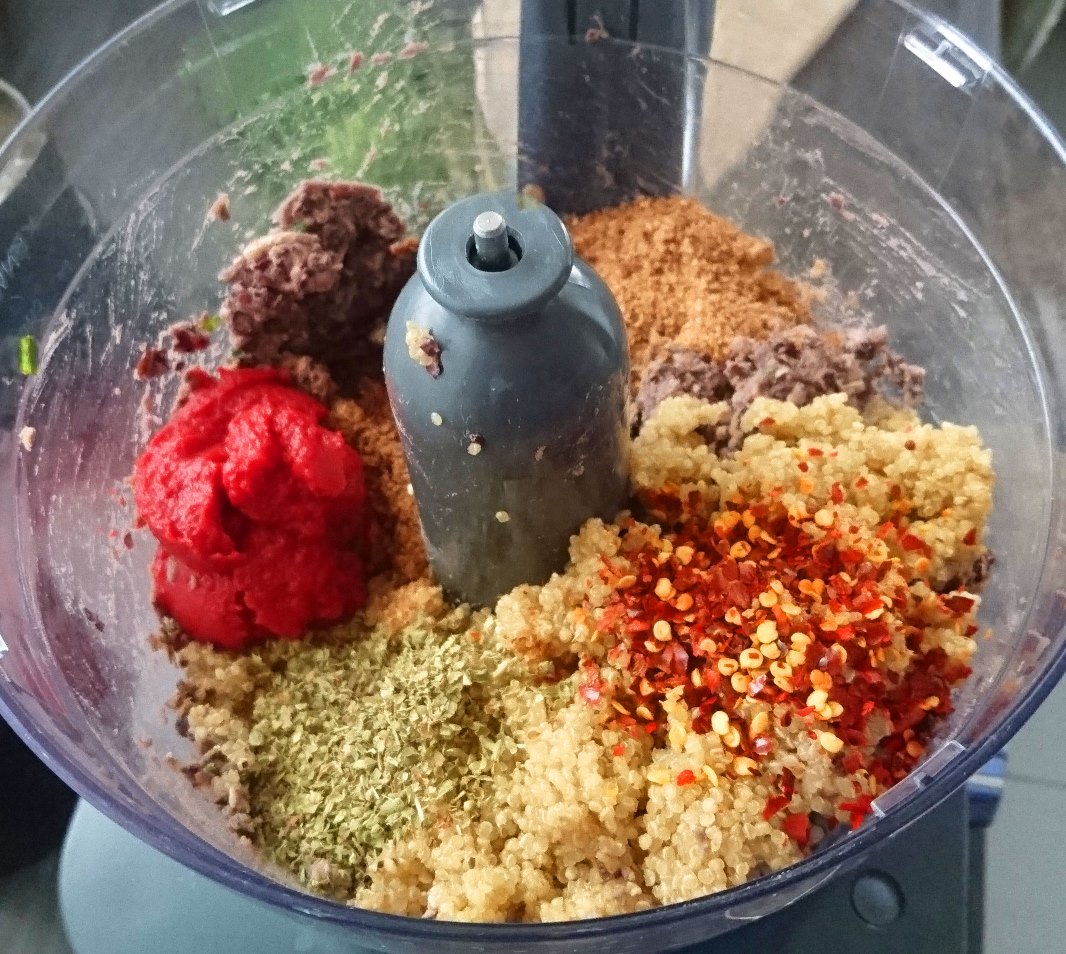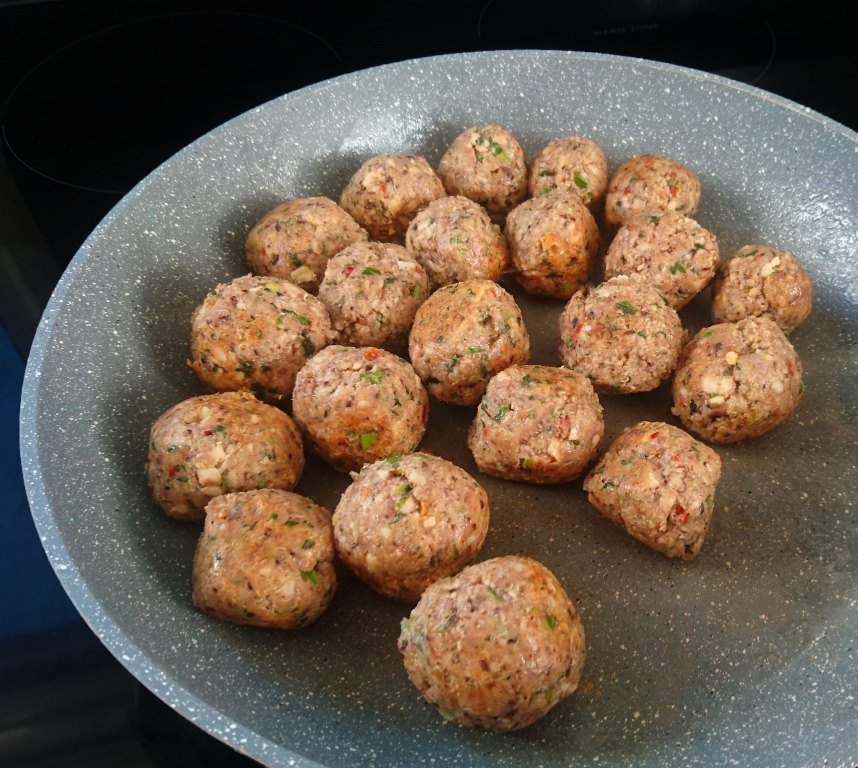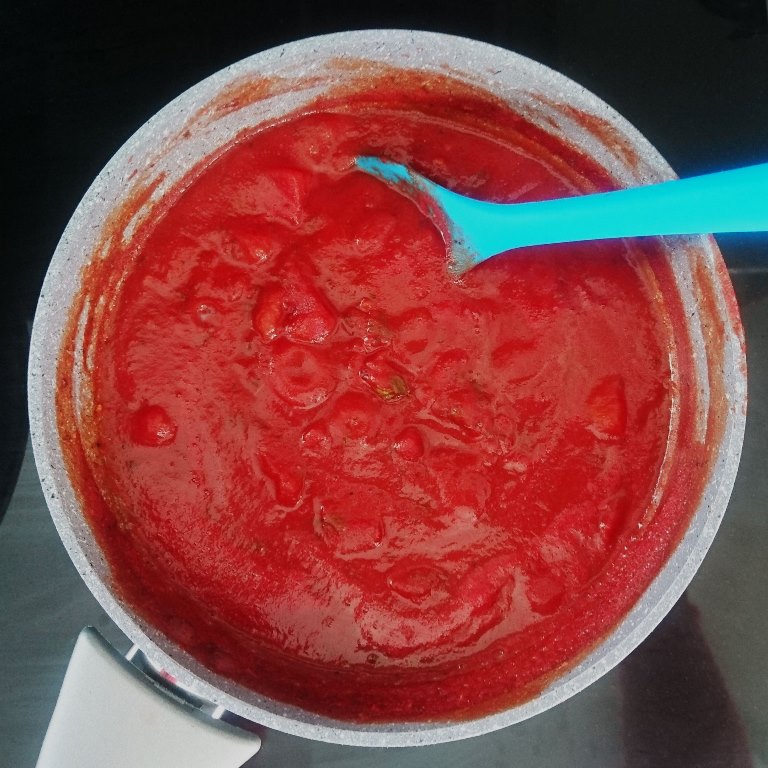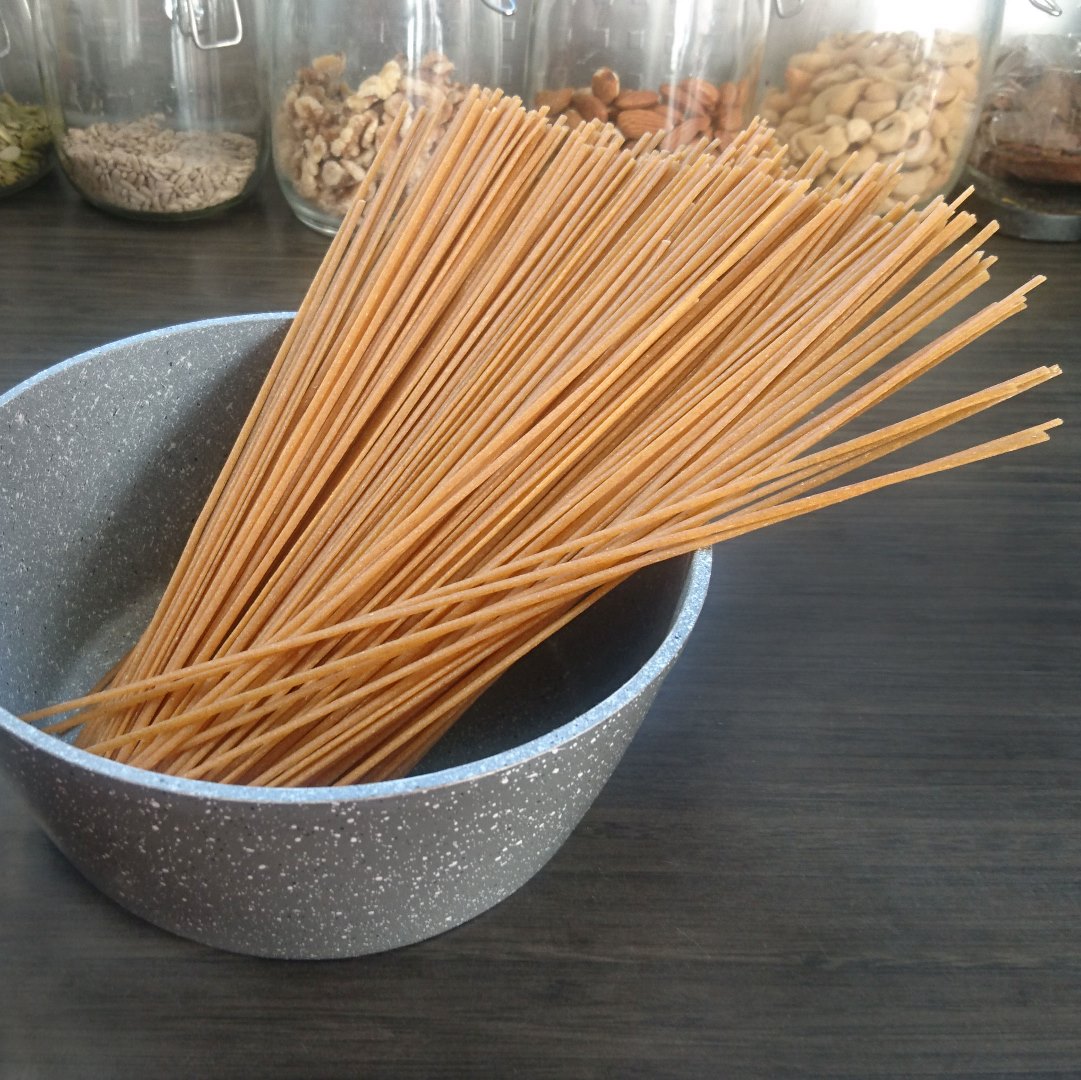 Whilst the meat(less) balls are cooking, I prepared the Marinara sauce. Keeping the flavour levels high and effort levels down, I heated a large jar of passata with fresh tomatoes and dried oregano. Once this started to simmer, I added soy sauce, fresh basil and seasoned.
And now for the final ingredient: spaghetti! Keith absolutely loves spelt or wholewheat pasta, but as I'm gluten intolerant I usually use gluten free OR EDAMAME spaghetti! It is more expensive, but it's soooo good (and so high in protein) that I  buy that as a treat – or when we're on the road becuase it only needs a few minutes with some boiling water!
And now, with all those ingredients ready, you can put it all together for a delicious, highly nutritious comfort food! If it's not all gobbled up in 5 minutes (this is like those suggestions of what to do with leftover wine – I mean does that even exist 😉 BUT, if you have got leftovers, or you've doubled up on the recipe, the meat(less) balls last in the fridge for up to 3 days and in the freezer for up to 3 months. To retain the crispiness, you'll find it better to reheat them in the oven.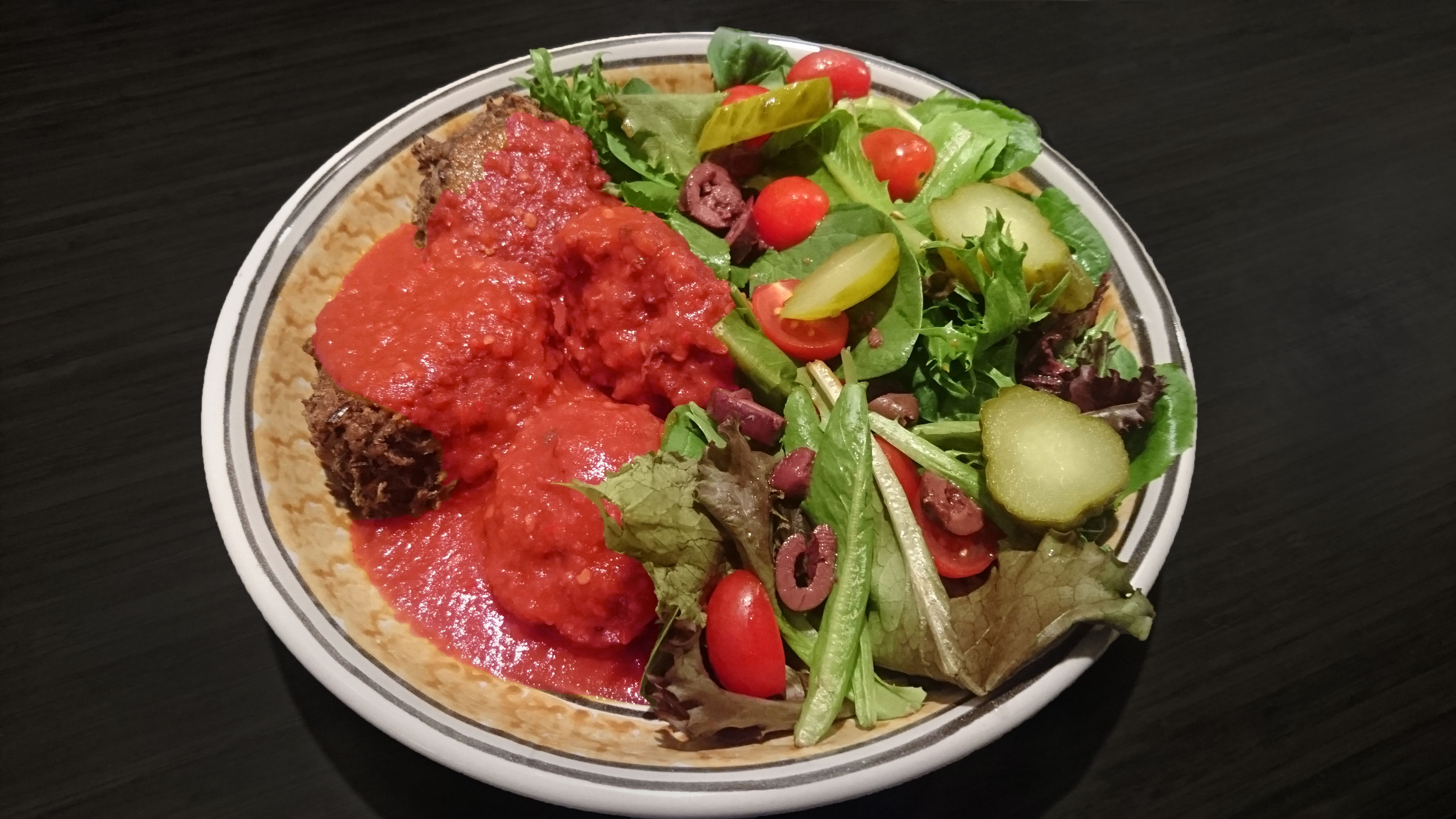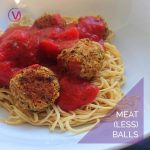 Print Recipe
Meat(less) Balls & Spaghetti
soy free with soy-free pasta | refined sugar-free | gluten-free* | dairy free | WFPB*
*use gf pasta
A crispy, yet soft vegan meat(less)ball which has completely won my husband over. Tossing it with some tasty wholewheat or edamame (soy) spaghetti and a sweet, tangy marinara sauce, and you'll be in heaven too!
Ingredients
Meat(less) Balls
1/2

cup

Cashews

Soaked in hot water for 30 mins

15

oz can

Black beans

1x 400g can, drained

1/2

cup

Quinoa

Cook with 1 cup veg stock to make 1.5 cups quinoa.

2

tbsp

Ground flax

(ground linseed)

4

Spring onions

(green onions), roughly chopped

1

tsp

Dried oregano

1/2

tsp

Chilli flakes

(red pepper), to taste

2

tbsp

Tomato paste

2

tbsp

Fresh basil leaves

or 2 tsp dried basil

1

tbsp

Fresh flat parsley

or 1 tsp dried parsley

1

tbsp

Soy sauce

or Tamari for gf

Black pepper

To taste
Marinara Sauce
1

large jar

Passata

(approx 680g)

4

medium

Tomatoes

diced

1

tsp

Dried oregano

1

tsp

Soy Sauce

or Tamari for gf

2

tbsp

Fresh basil leaves, chopped

or 2 tsp dried basil

Salt

to taste

Black pepper

to taste
Spaghetti
280

g

Spaghetti

I recommend wholewheat, soya (edamame) or gluten free.
Instructions
Meat(less) Balls
Quick Prep

Soak your cashew nuts in hot water for 30 minutes and then drain.

Cook your quinoa as per packet instructions (usually 1 part quinoa to 2 parts vegetable stock, boiled for around 13 minutes). Allow to cool.

To dry out the black beans, bake in your microwave oven for 5 minutes (don't add any water). Check them regularly, but don't worry if they split open, this is completely normal. Alternatively, bake them in the oven on 375F / 180C for 15 - 20 minutes.

If you haven't used your oven for the black beans, preheat your oven to 375F / 180C.

Add the black beans, drained cashews, spring (green) onions, basil and parsley to a food processor and blitz until you have a lumpy paste.

Add the quinoa, flax, oregano, chilli flakes, tomato paste, soy sauce and black pepper and continue to blitz to combine.

Scoop out the mixture to form 20-24 balls and place in a large, lightly oiled frying pan. Cook on a medium heat for 5-6 minutes, turning them often to ensure an even crispy shell.

Transfer the balls to a lightly oiled baking tray and bake for 20 minutes. If the balls are too soft after this time, cook for an additional 5 minutes.
Marinara Sauce
Add your jar of passata, diced tomatoes and oregano to a medium pan and gently heat.

Once simmering, add the soy sauce and basil and cook for another couple of minutes. Season to taste.
Spaghetti
Cook your chosen spaghetti as per packet instructions, drain and serve with 4-5 meat(less) balls and top with your marinara sauce and any leftover basil leaves.
Notes
*This recipe can be made whole food plant based if using a non-stick frying pan and omitting the oil.
If you want to double up your batch and freeze some of the meat(less) balls, I recommend reheating them in the oven to ensure they don't fall apart.
Please let me know how your Meat(less) Balls & Spaghetti turns out in the comments!
Let's keep in touch. Follow Vegan Inspire on Instagram & Facebook
Nutrition