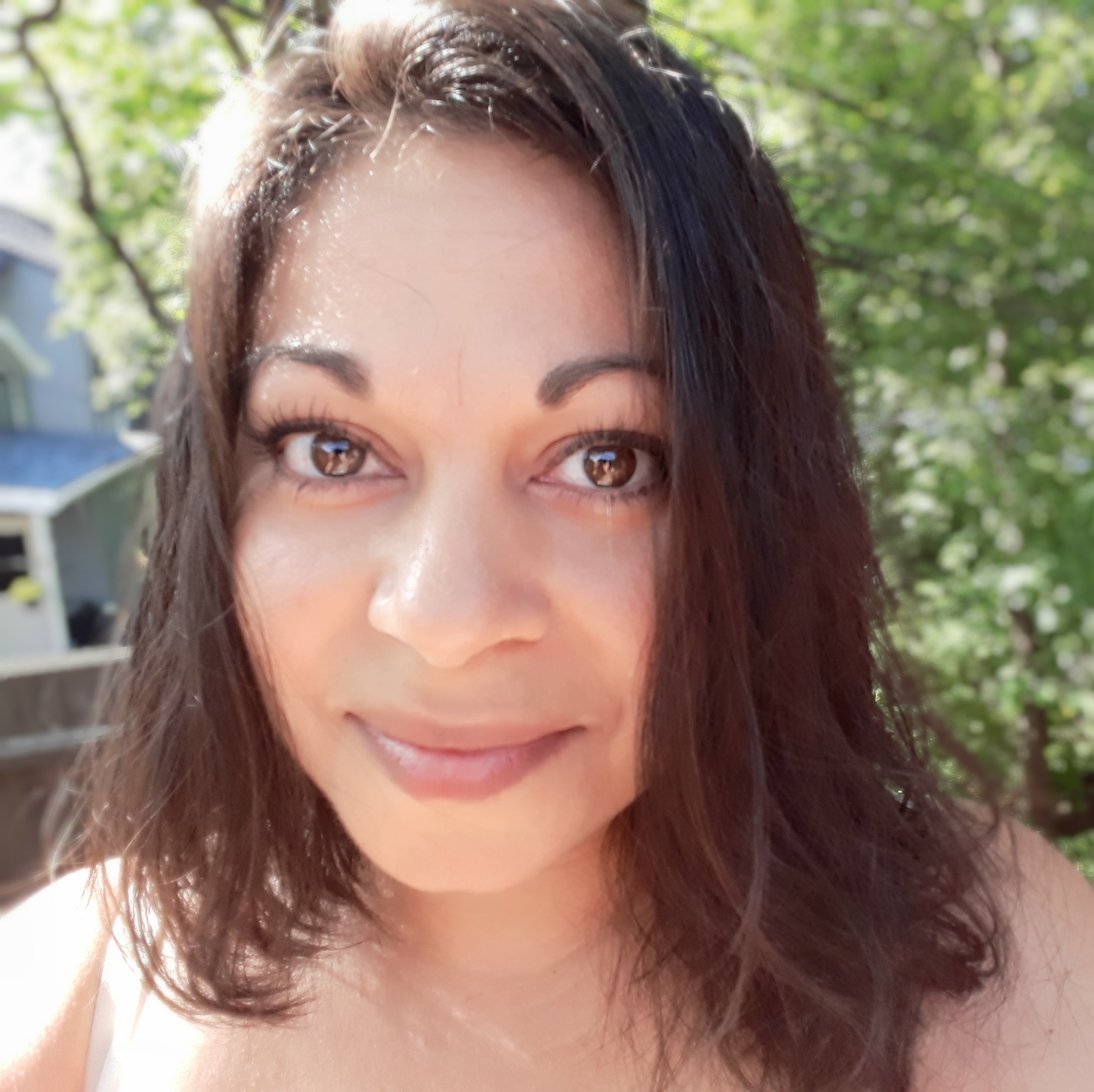 VI Owner, Foodie, Blogger & Planet Enthusiast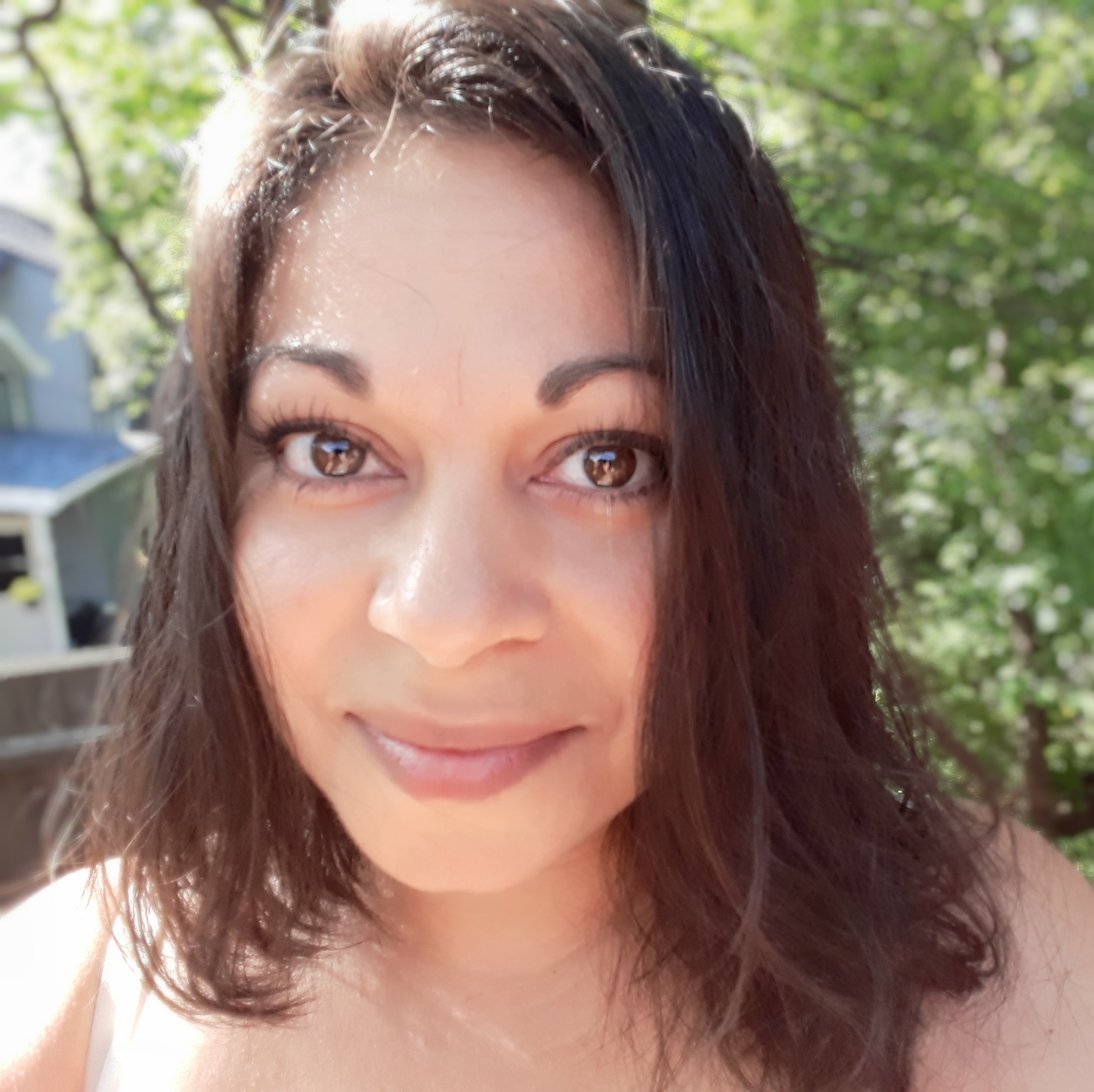 VI Owner, Foodie, Blogger & Planet Enthusiast
Protein:
23.6g per portion (2)
Good For:
Breakfast, Lunch, Kids
You may have heard me mention before on my
eggy scrambled tofu post
, but since becoming vegan, I've missed the taste of eggs, quite a bit! I did consider the idea of eating eggs from chickens which my mother-in-law keeps. She is looking after some former battery hens – as well as others and they have lots of space to roam around during the day. It seemed like the most kind way to consume eggs if you were going to, but then I read up on the health affects of eggs. The messages are really mixed and although it may be true that eggs are not be a risk to our heart (still seems to be up for debate), the scientific evidence does show clear links to certain types of cancers such as
breast
,
prostate
and 
colon
 as well as others. Studies suggest this is due to high levels of cholesterol and choline found in eggs.
So, I needed alternatives!
And this is how I discovered vegan omelettes. A low calorie, high protein meal which really fills you up until your next meal.
You can use purchase chickpea/gram flour, however, I found it to be quite expensive compared to a large bag of dried chickpeas. Instead, I grind dried chickpeas in my coffee grinder – with fingers in my ears because it is sooo loud! But 15 seconds later and you have enough flour for one portion.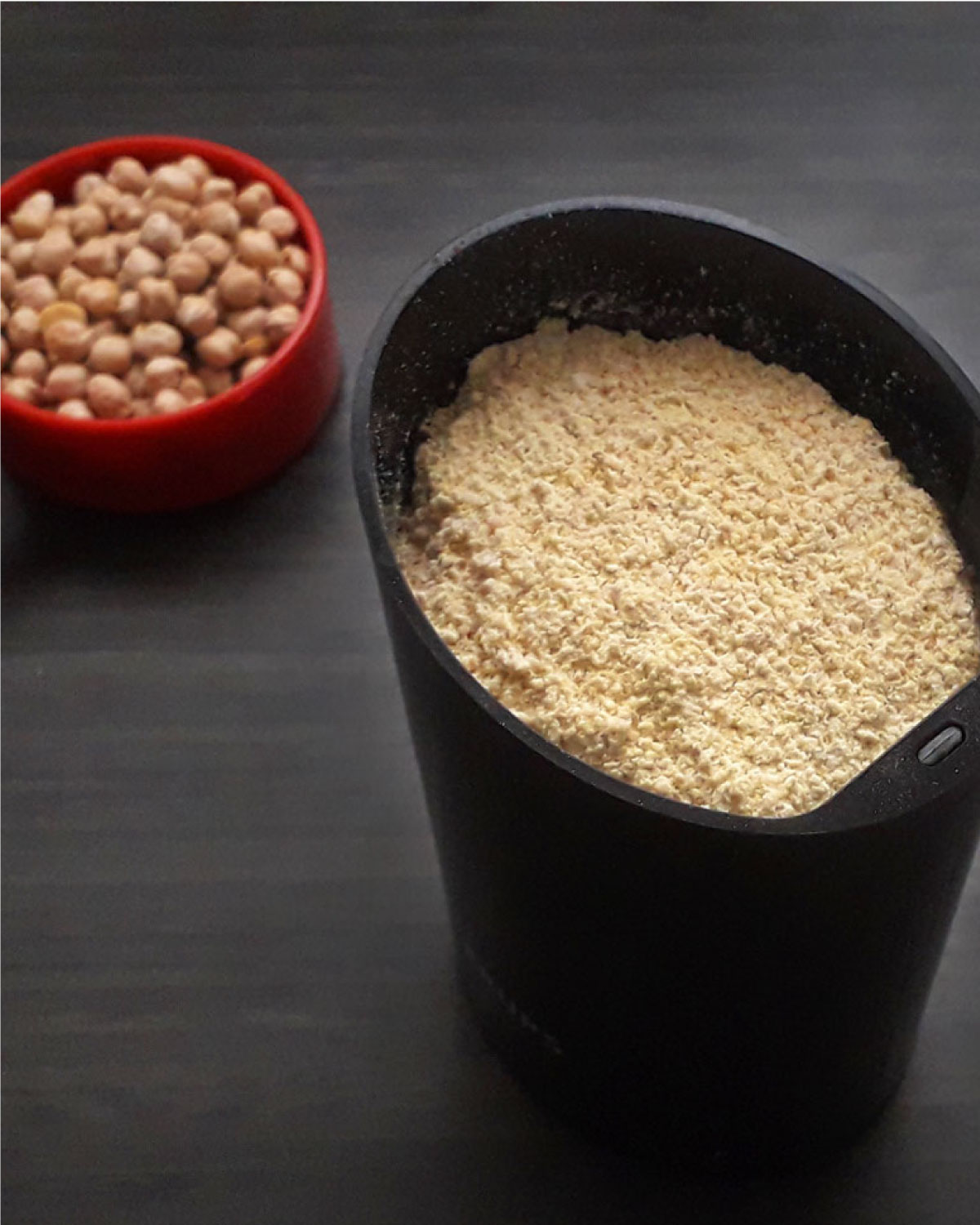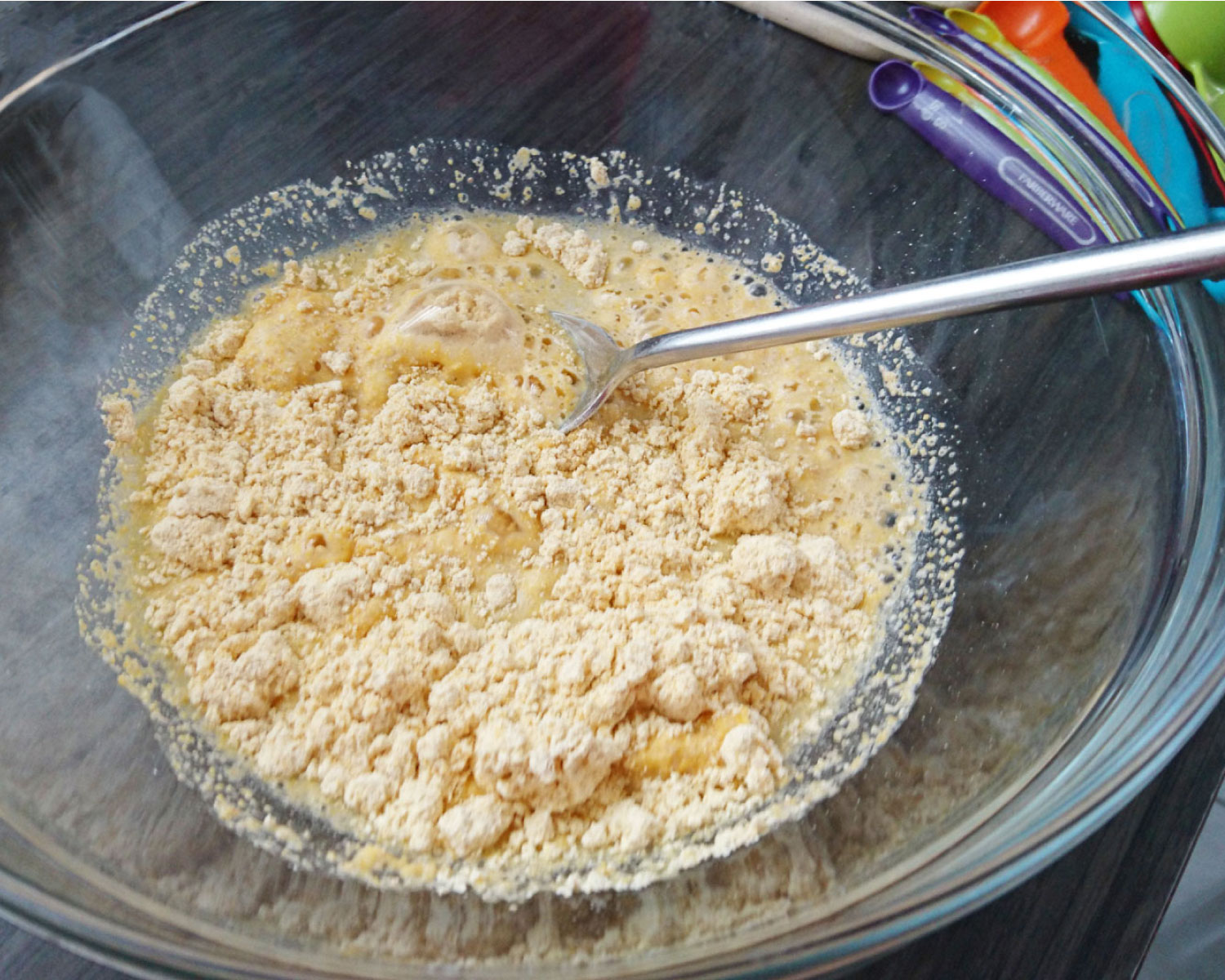 Making these omelettes is incredibly easy. All you need to do is mix together the chickpea flour (known as gram flour) with water, baking powder, apple cider vinegar, nutritional yeast, black salt (also known as kala namak) and ground black pepper. Either whisk well with a hand whisk or fork or use an electric mixer, until all the lumps have been removed.
I have also made a breakfast version by adding a ripe banana into the mixture. This changes the texture, so that it is fluffier, but does change the taste, so if you love bananas or eating this for brunch then you might want to try this version out!
(see below)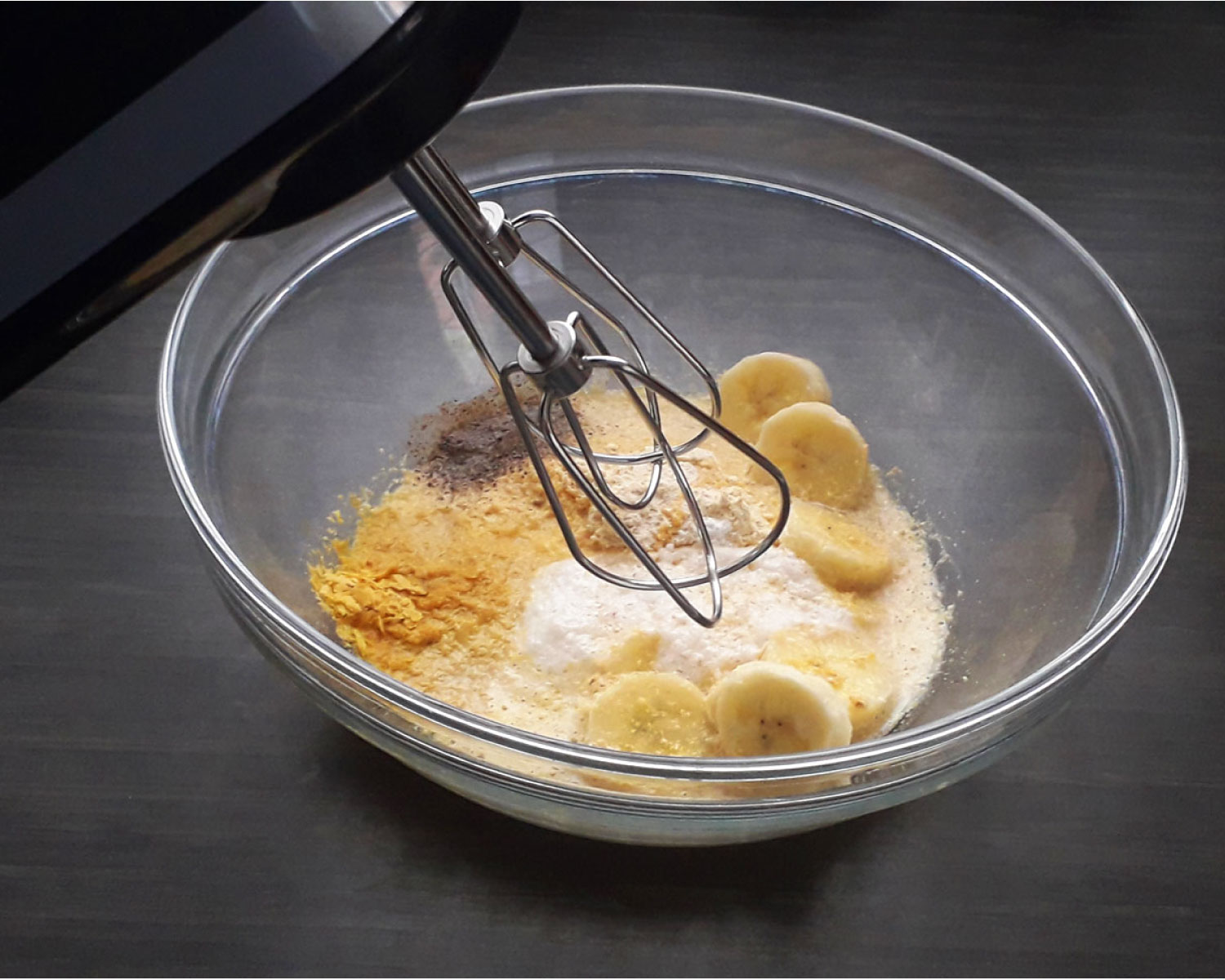 At this point you can get creative. Choose whatever veggies you'd like, as long as raw vegetables are cut up small enough to cook. Otherwise you might want to use leftover cooked vegetables or steam your veggies before adding them to mixture. I've used mushrooms and asparagus, but you could add sweet peppers, butternut squash, red onions, spinach, tomatoes or broccoli etc.
After combining everything together, I heated a small frying pan to a medium heat. Spraying some oil in the pan, I added a quarter of the omelette mixture. The first side I cooked for 5-6 minutes, flipping carefully and cooking the other side for another couple of minutes.
My vegetables were cooked just right. The mushrooms were cooked through and the asparagus still retained a slight bite to them – which is just how I like them. Before taking your omelette out of the pan, do make sure yours are cooked.
Serve your omelettes on their own or with a side salad.
You might find two omelettes a lot to get through, but fear not, they keep well in the fridge for a couple of days and can be eaten cold.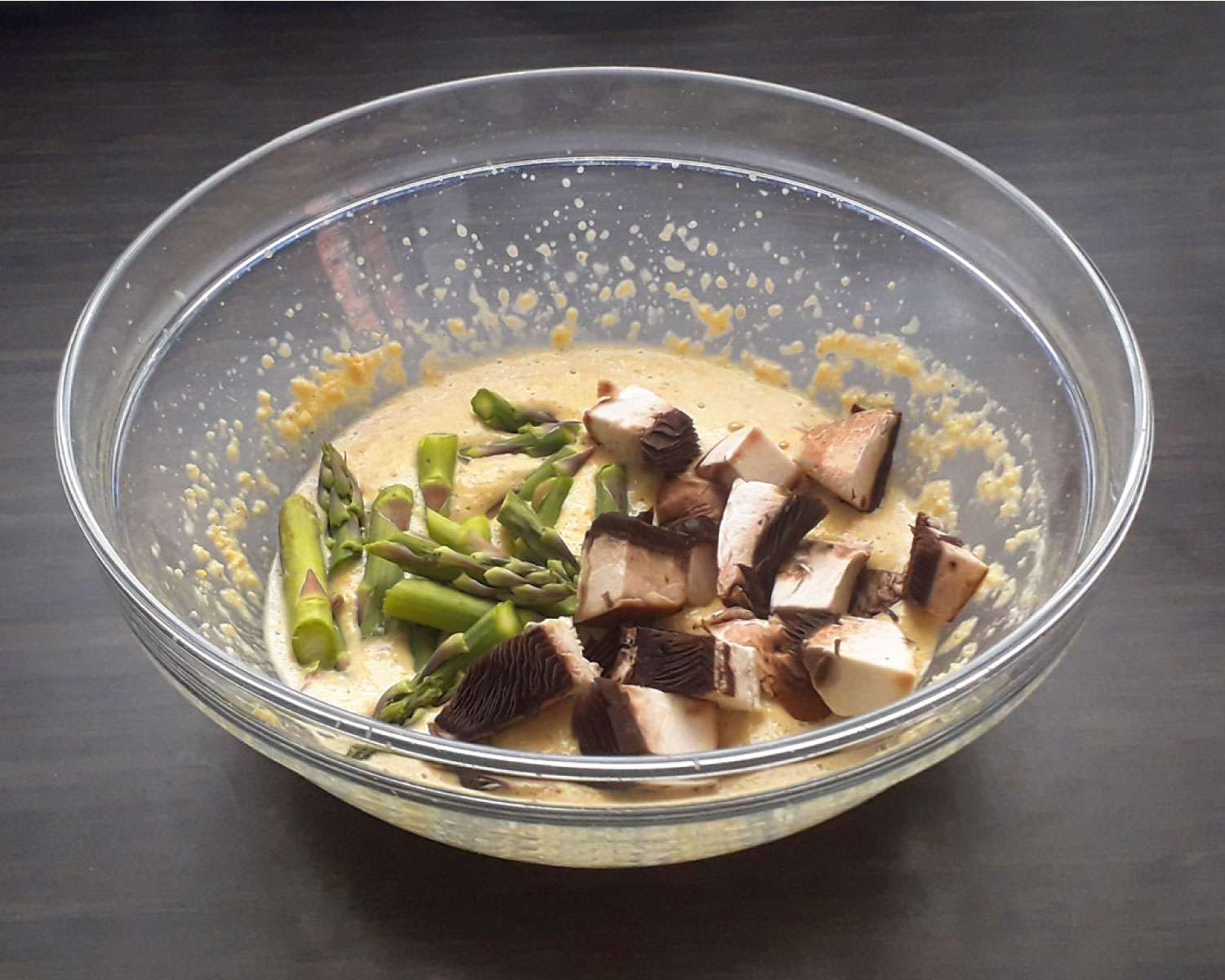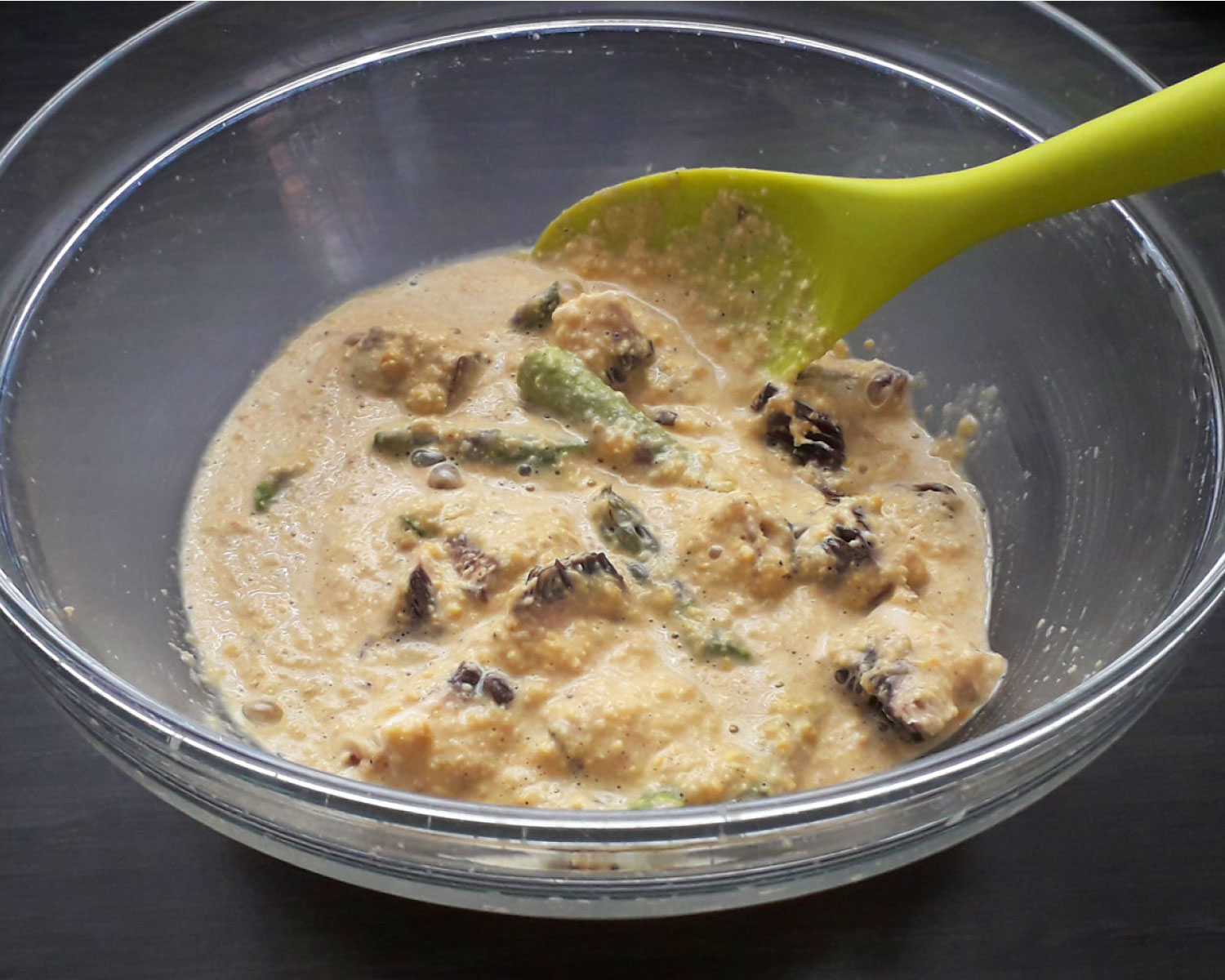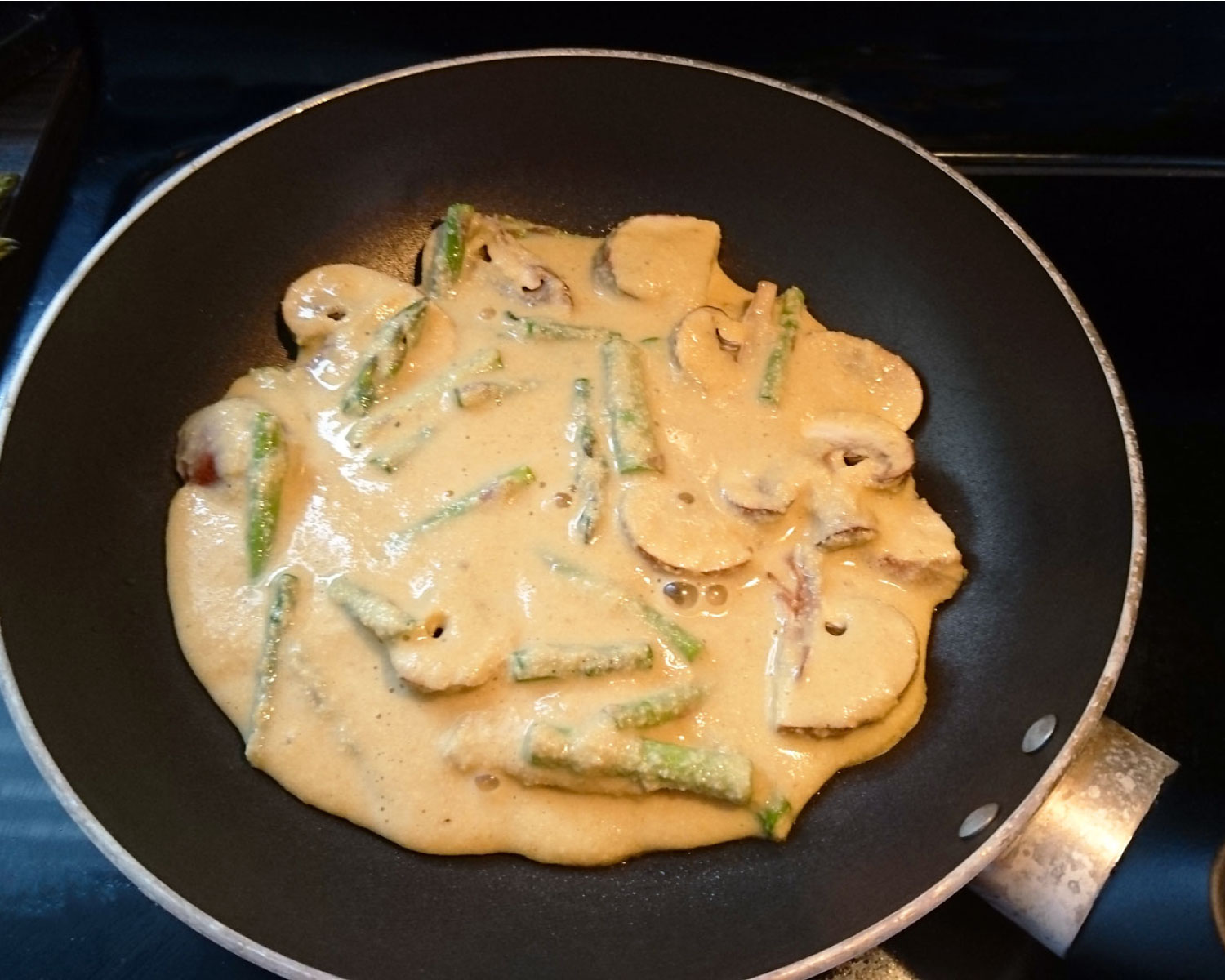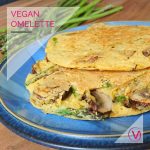 Print Recipe
Vegan Omelette
gluten free | dairy free | nut free | refined sugar free | soy free | WFPB*
Here's a great quick and easy lunchtime or snack recipe which you can amend to suit your own taste. I've called it an omelette but it's more like a pancake in texture as it's much denser than a traditional omelette.
Ingredients
1 1/2

cups

Gram flour

180g. If you have a high speed food processor, you can make this yourself from dried chickpeas)

1 1/2

cups

Tap water

360ml

1/2

tsp

Baking powder

2

tsp

Apple cider vinegar

1

tbsp

Nutritional yeast

1/4

tsp

Black (Kala Namak) salt

1/8

tsp

Ground black pepper

1/2

cup

Mushrooms

sliced

1/2

cup

Asparagus

chopped into 4cm pieces

Olive oil spray
Instructions
In a medium bowl, mix the chickpea/gram flour with the baking powder, nutritional yeast and ¼ tsp black salt.

Next, add the water and apple cider vinegar and whisk well with a small whisk or fork until you have a nice smooth paste.

Add in 1 cup of your favourite vegetables and stir. N.b Make sure you vegetables are cut up small and thin so they cook easily.

Heat a frying pan on medium and spray lightly with oil. N.b. Either use a small pan and cook one omelette at a time, or a large one to get two in at the same time.

Once the pan is heated, add ¼ of the mixture for each omelette to the pan and allow to spread out.

Cook for 5-6 minutes or until the edges have started to cook and the pancake is loose in the pan.

Turn the omelette over and cook for another couple of minutes.

Serve and eat immediately with your chosen salad!
Notes
*This recipe can be made whole food plant based if you use a non-stick frying pan and omit the spray oil.
Don't forget to mix and match your vegetables. I've used mushrooms and asparagus, but why not try sweet peppers, courgettes, spinach, peas, artichokes or vegan cheese? The list is pretty much endless!
I have used these as a takeout lunch and ate them cold, and it worked perfectly!
Please let me know how your Vegan Omelette turns out in the comments!
Let's keep in touch. Follow Vegan Inspire on Instagram & Facebook
Nutrition