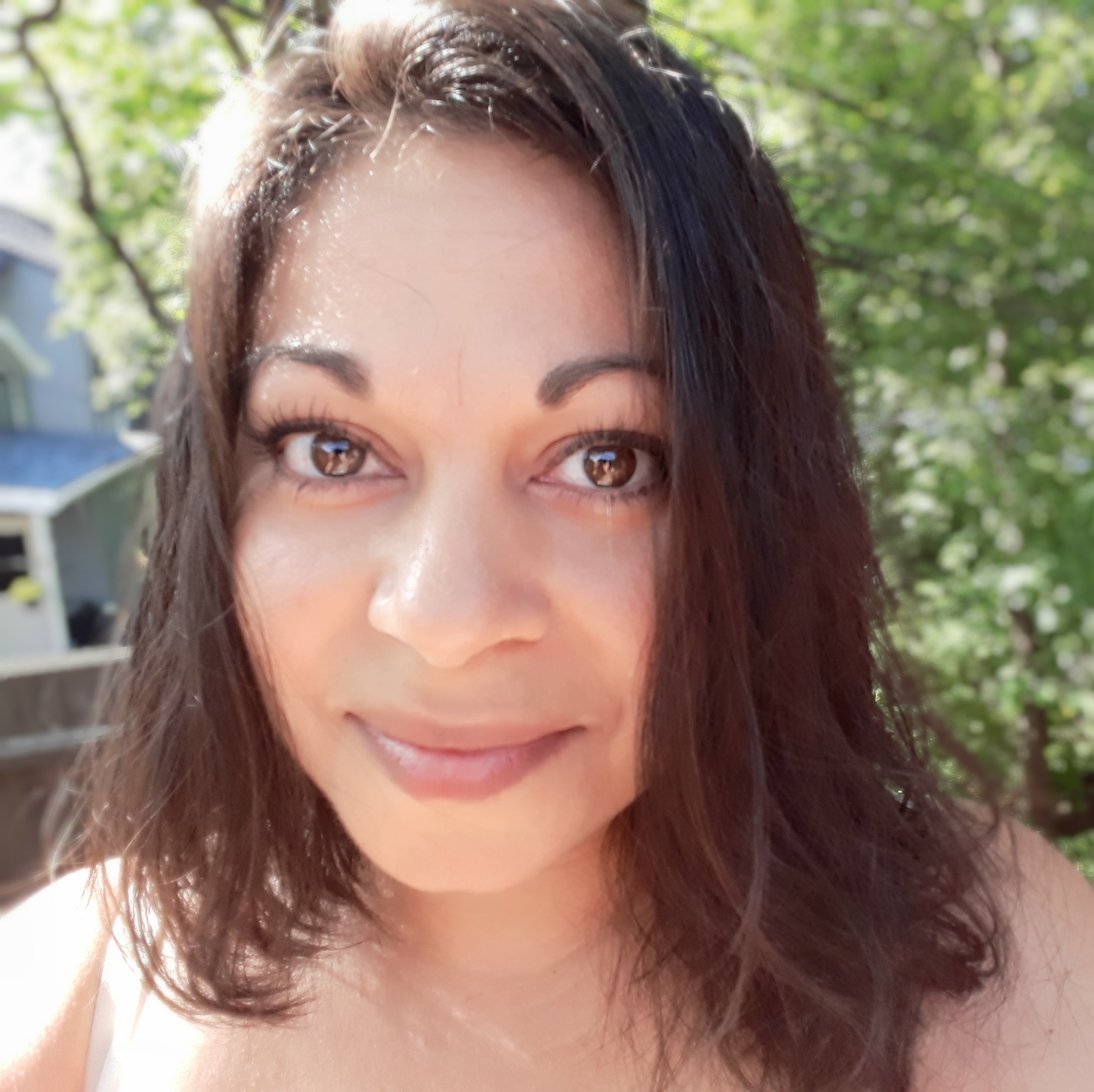 VI Owner, Foodie, Blogger & Planet Enthusiast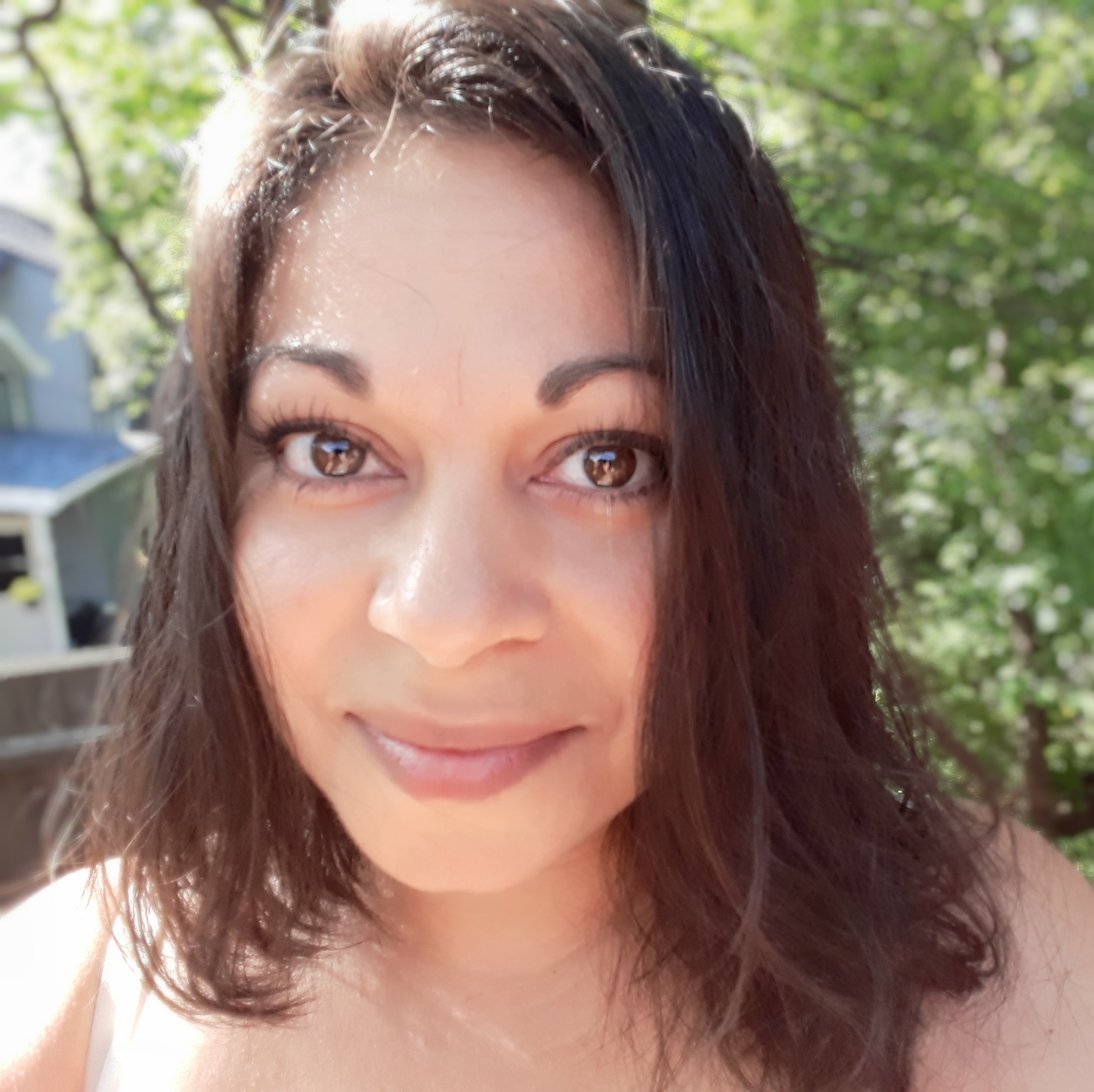 VI Owner, Foodie, Blogger & Planet Enthusiast
Calories:
129 kcal per pancake
Good For:
Breakfast, Dessert, Kids
Today I have been on a mission to make the best gluten free pancakes. Being gluten intolerant and vegan is sometimes not only really difficult, but also tear-inducing when you want something you can't have and you know will make you sick. Mostly I've got used to it, but there are times, like Pancake Day (Shrove Tuesday) when I'm fed up.
This Shrove Tuesday, however, I decided it wasn't going to beat me and I was going to have some scrumptious pancakes just like I used to as a kid!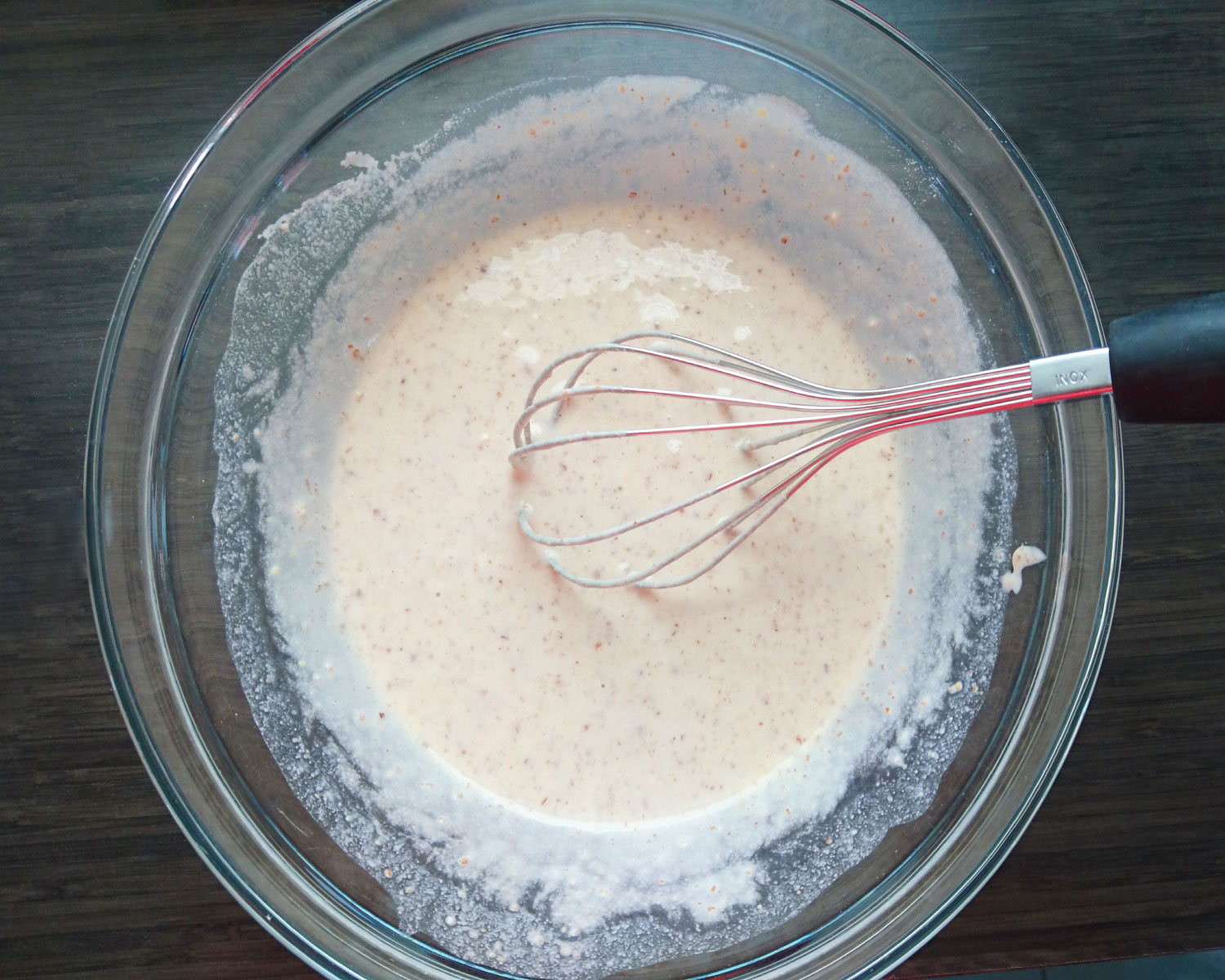 I've made gluten free pancakes in the past (prior to going vegan) and I found they would be inflexible and needed to be much thicker than normal pancakes. I didn't want that. So, some research and trial and error later I came up with this recipe which is actually pretty simple and really easy to follow. Perfect for making gluten free pancakes with your children. And, if you don't need gluten free pancakes, just swap the flour to plain or wholemeal flour and they should turn out just fine.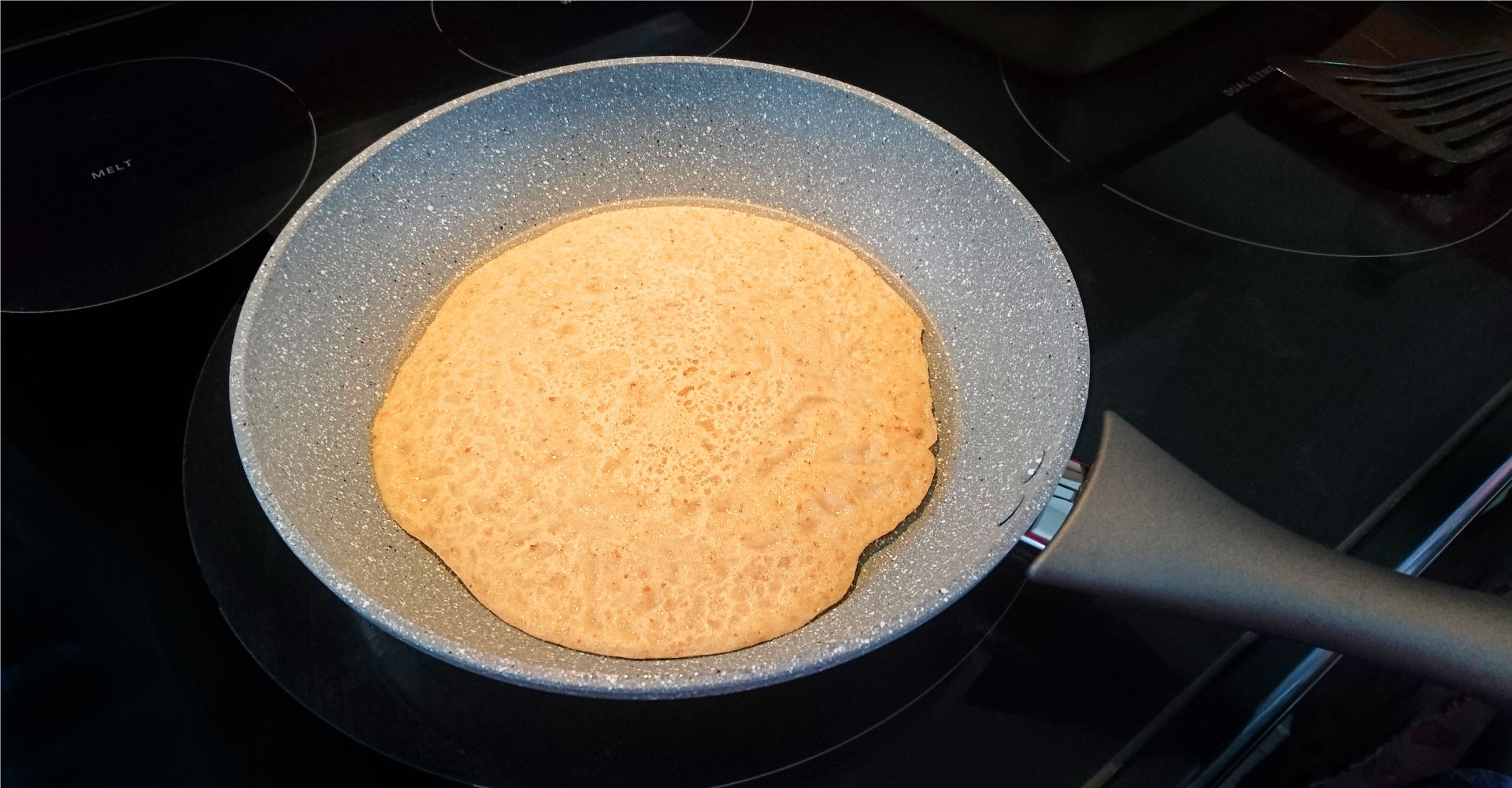 For these gluten free pancakes, I found everyday all-purpose gluten free flour works great. I measured some out into a medium size mixing bowl and made a hole in the middle of it. I then added ground flax and water into the hole as well as some soy milk (I'm pretty sure any plant-based milk would work here). Slowly I mixed the milk and flax into the flour using a whisk. I kept adding more milk gradually until I had formed a paste and then set the mixture aside to settle for 10 minutes.
Using a medium non-stick frying pan, which I lightly oiled, I then preheated it to a medium heat. Once up to temperature, I added a large scoop of the mixture to the pan. If you've ever made these kind of pancakes before, you'll know that it is important to tilt the pan around in a circular motion to ensure the mixture reaches the edges of the pan and to achieve an even thickness all over your pancake.
Each side needs around 2-3 minutes or cooking and if you're brave enough, give it a flip in-between! I make sure each side has browned, but you will notice that these won't brown quite as much as wheat pancakes. I continue to cook the pancakes until all the mixture is used up, which usually gives me 6 pancakes in total. n.b. you may need to add a very small amount of oil in between each pancake depending on your pan.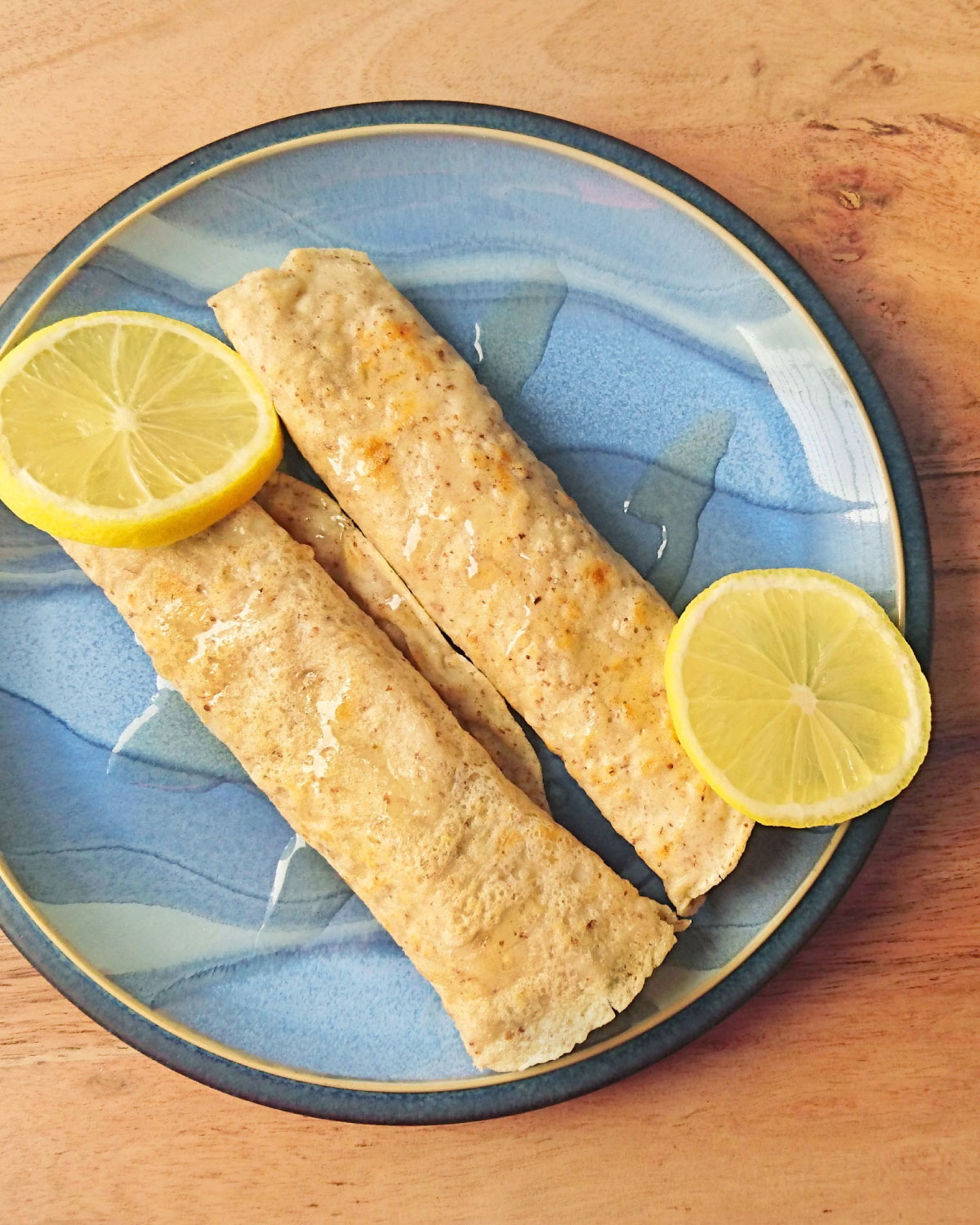 To serve, you could smother your pancakes with pretty much anything, favourites include vegan chocolate spread, strawberries and soy cream, peanut butter and jam; but my favourite from my childhood is the traditional lemon and sugar. Here I've included a slightly different take by using maple syrup. I squeeze some lemon into my open pancake, roll it up and then add another squeeze on the top with a drizzle of maple syrup. Perfection! I no longer have to live without pancakes! And now you don't either!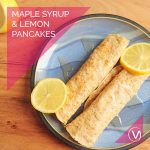 Print Recipe
Lemon Maple Gluten Free Pancakes
gluten free | dairy free | nut free | soy free*
*use alternative plant-based milk)
I'm so excited to share this gem with you. A vegan and gluten free pancake recipe which actually works and hits that sweet spot!
Ingredients
Pancakes
1

cup

Gluten-free all-purpose flour

use normal flour if you prefer

1

tbsp

Flax meal

3

tbsp

Tap Water

1

cup

Unsweetened soya milk

240ml

Oil for frying
Toppings
1

Lemon juice

2

tbsp

Maple syrup

or sugar alternative
Instructions
Put the flour in a medium bowl. Make a hole in the middle and add the ground flax and water.

Slowly add the milk to the hole too and with a whisk, mix into the flour until you've formed a paste. Set aside to settle for 10 minutes.

Fry a large scoop of the mixture in a lightly oiled medium frying pan on a medium to high heat. Tilt the pan around to ensure the mixture reaches the edges of the pan.

Fry on each side for 2-3 minutes, or until lightly browned. Flip if you're feeling brave!

Tip onto a plate and drizzle the lemon and a little sugar into the middle of the pancake. Roll up like a wrap and drizzle a little more on the top with a more sugar if you like.

Serve immediately...and get eating!
Notes
Once you've got the basic pancake down, you might want to try other flavours. The list is pretty endless, such as vegan chocolate sauce, strawberries and cream or other favourite berries or fruit compote. Why not go savoury and try spinach and mushrooms, or a smoky vegetable hash?
Please let me know how your Lemon Maple Gluten Free Pancakes turn out in the comments!
Let's keep in touch. Follow Vegan Inspire on Instagram & Facebook
Nutrition