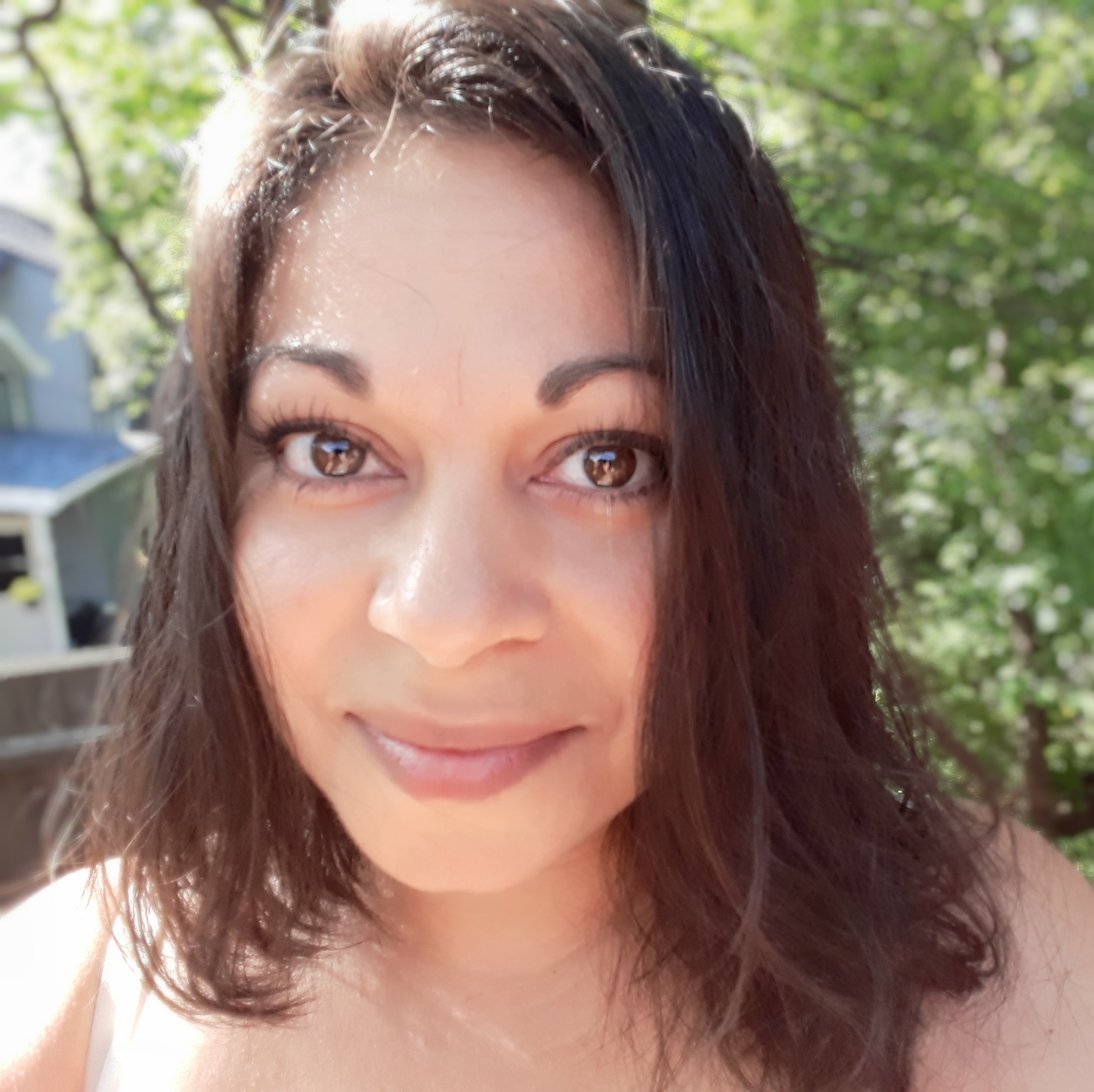 VI Owner, Foodie, Blogger & Planet Enthusiast
Independant Ambassador for Tropic Skincare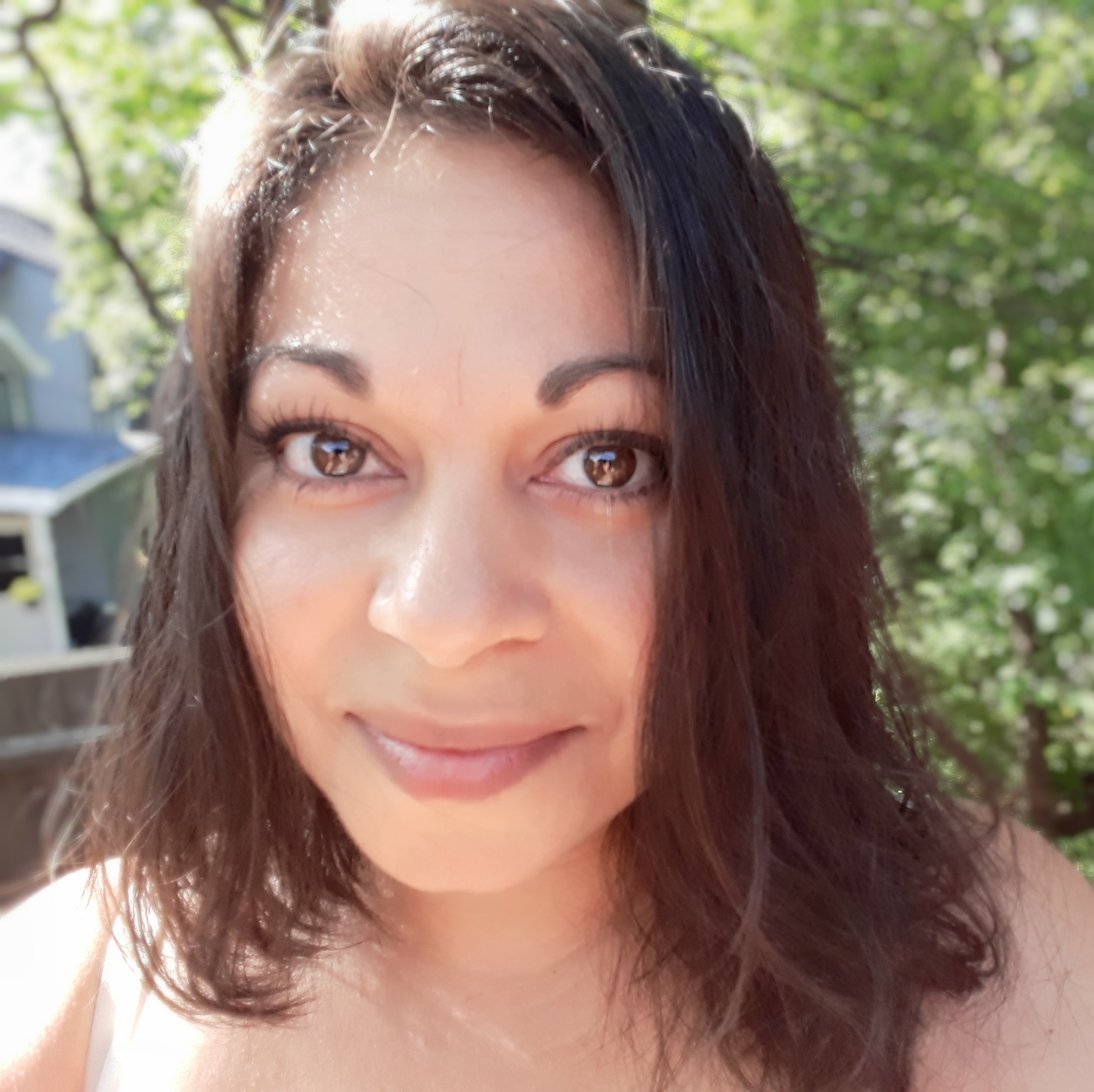 VI Owner, Foodie, Blogger & Planet Enthusiast
Good For:
Quick weekday dinner, Kids
We all need a few go-to dinners which will be ready quickly and are suitable for small and big kids alike. Am I right? This can be hard to keep it healthy, and I'm just as guilty as the next person for dragging something out of the freezer and whipping it into the oven.
But now there's no need! I have found a perfect dish for all year round which is nutritious, tastier than any mac n cheese I've ever eaten, and is ready in 20 minutes (and this is if you're taking it slow!)
Pumpkin pasta is one of the first ever recipes I created after I became vegan. One evening I told my nephew that we were having mac n cheese for dinner, except it was a vegan sauce made from pumpkin and gluten free pasta (I'm intolerant). His initial response was…so it's fake mac and fake cheese? Errr….well kind of yes! He didn't look impressed. Thankfully this dish is such a winner that his impression changed as soon as he started eating it.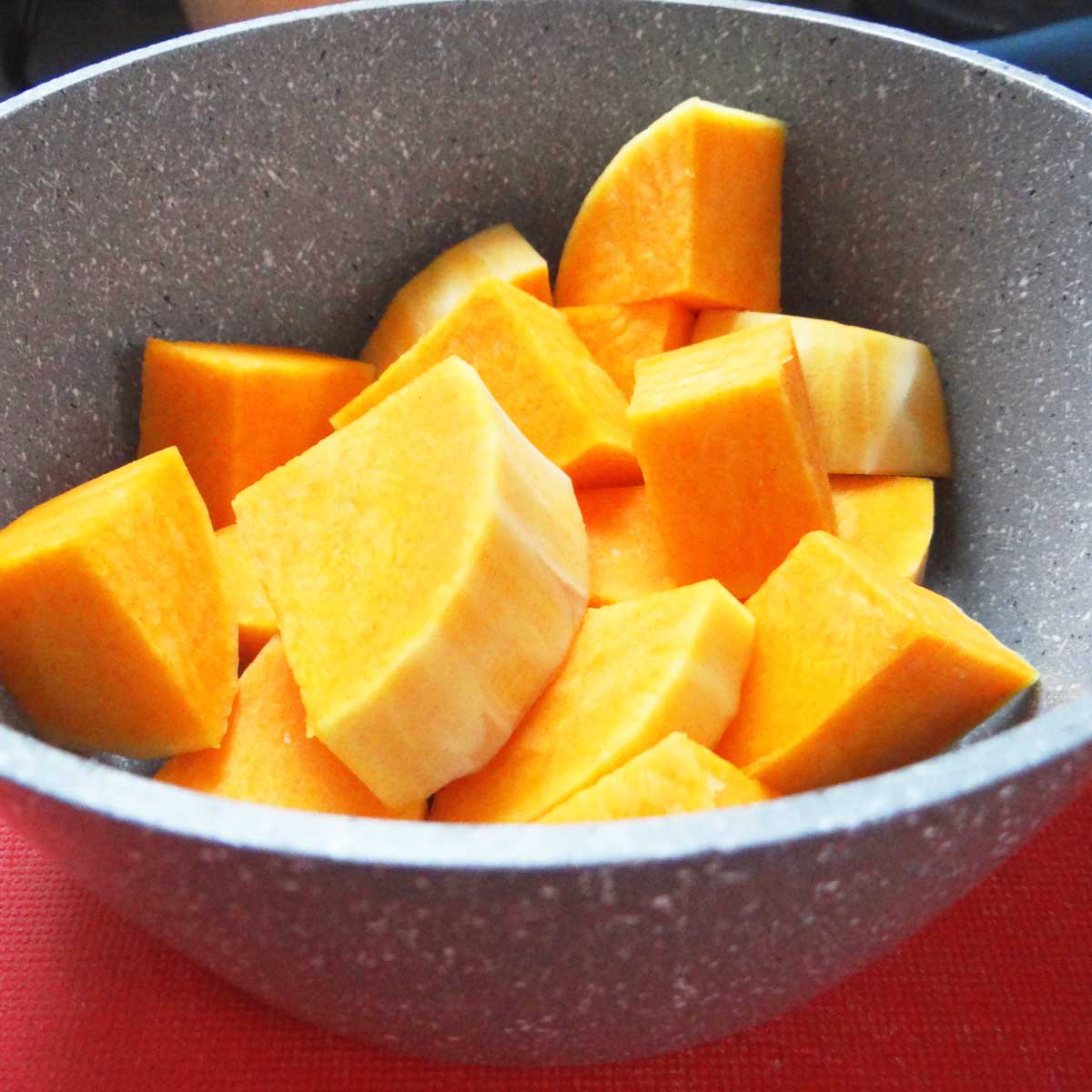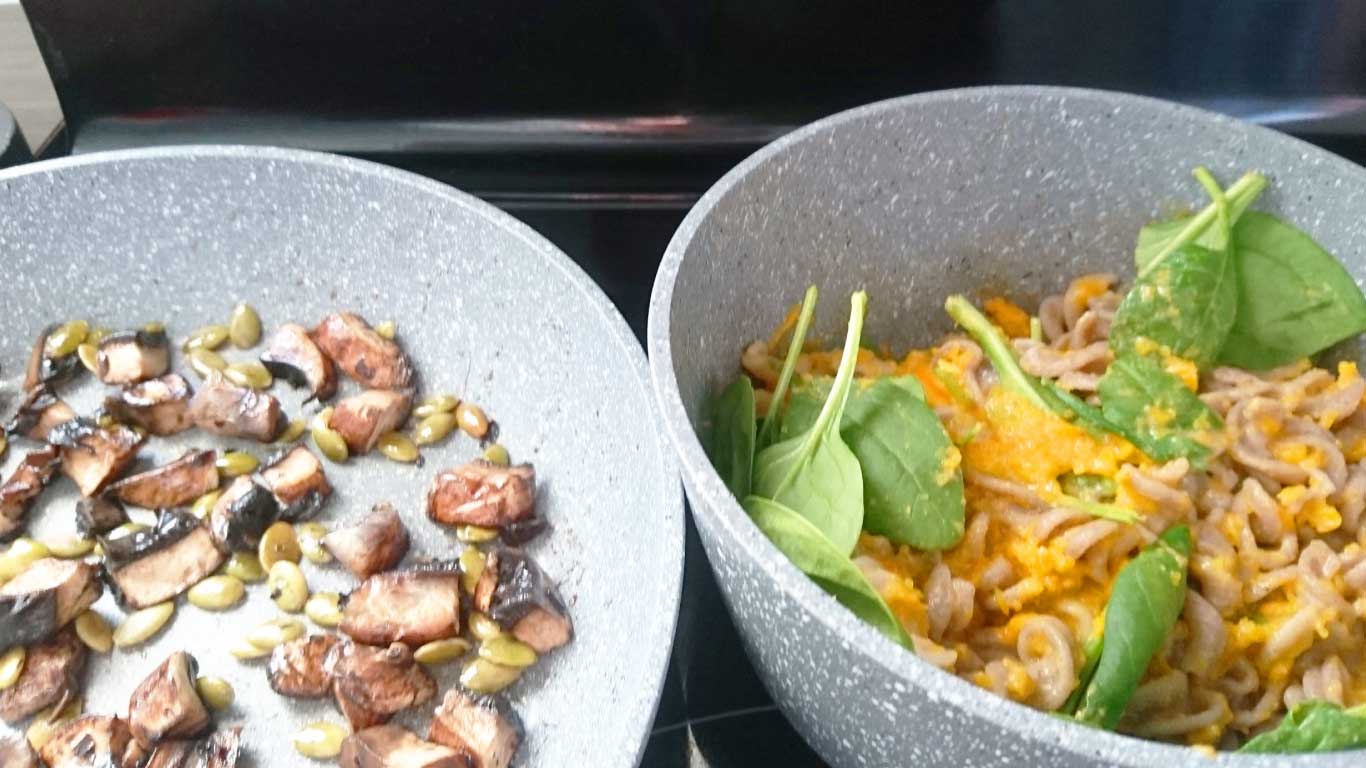 Over the years, I've tried a few different ways of making the main sauce from pumpkins and can confirm that butternut squash is my favourite by far. The flavour tends to be richer and sweeter. Plus, you have the bonus of it being easier to cut the skin off from those knobbly pumpkins which look so pretty. 
This is recipe is so easy to make and to store for another occasion. The sauce can be made ahead and stored in the fridge for 3-4 days. Alternatively, cook extra and take it to work the next day. Once, I even made some up and took it camping with me for the first nights dinner (who wants to be cooking after you've driven a long way and then spent the first hour untangling your tent 😉
But, I'd challenge you that this is so easy, I could have made it at the camp site with no problem. It's just a case of cooking the butternut squash and pasta (separately), draining and mashing the squash once it's soft and adding plant-based milk, nutritional yeast, oregano and lemon juice and season to your liking. It's up to you at this point whether or not you add in some additional vegetables such as spinach and mushrooms (see above), broccoli or really anything you like. Combine everything together, sprinkle with pumpkin seeds for extra protein and nutrients, get out your spork and you are ready to eat round your camp fire!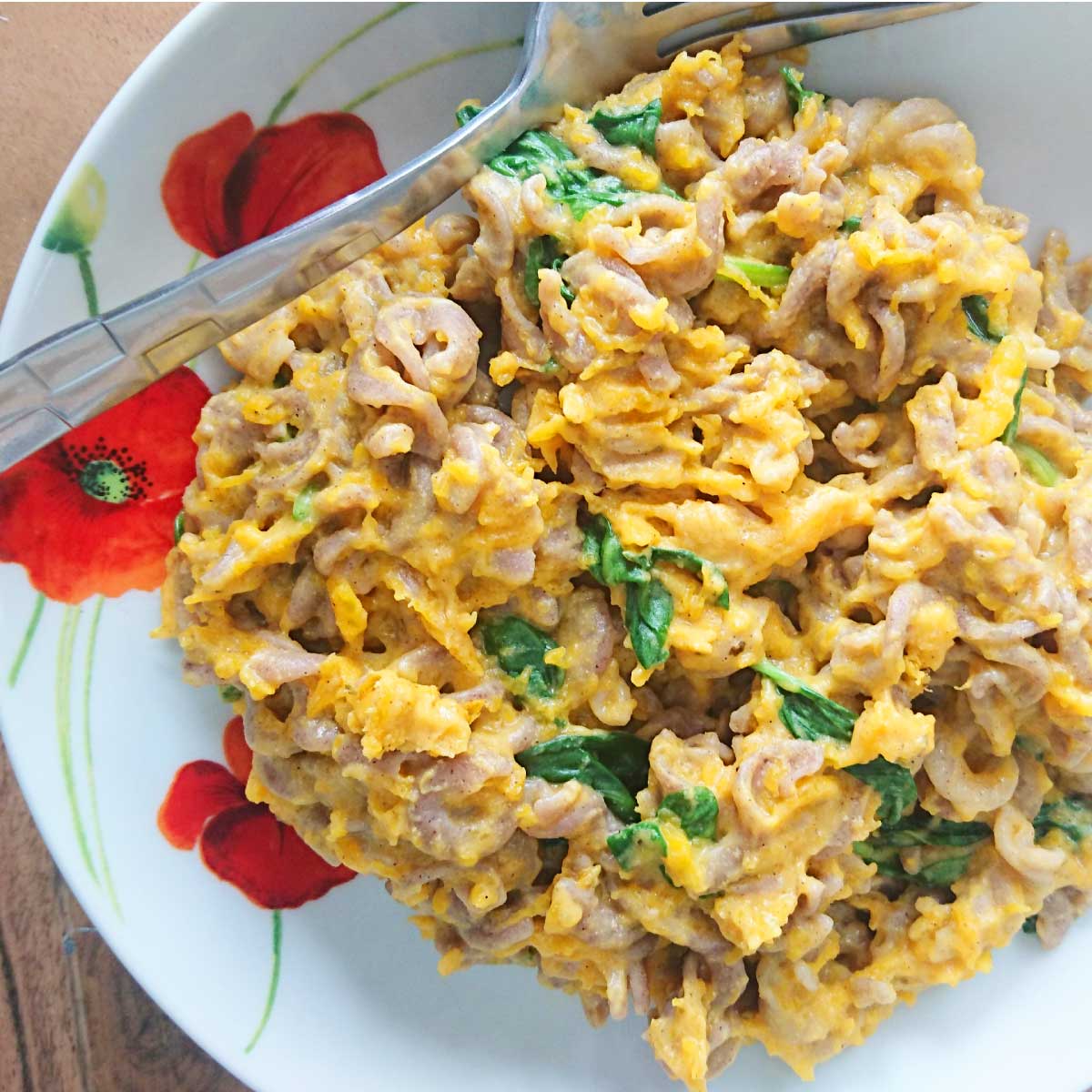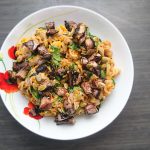 Print Recipe
Perfect Pumpkin Pasta
soy free | nut free | refined sugar-free | gluten-free*
*use gf pasta
Here's a great-tasting, simple year-round weekday dinner for all the family. Ready in just 20 minutes and great for lunch the next day.
Ingredients
320

g

Whole wheat pasta

or gluten free pasta

450

g

Butternut squash

large cubes

225

ml

Unsweetened soy milk

or other plant-based milk

1

tsp

Dried oregano

1/2

Juice small lemon

4

tbsp

Nutritional yeast

Black pepper

to taste

Salt

to taste

140

g

Spinach

2

tbsp

Pumpkin seeds

2

Spring (green) onions
Instructions
In a medium saucepan, add the butternut squash with about 1 cup / 250ml of hot water and cover. Cook for about 15 minutes until the squash is soft.

Meanwhile, cook the pasta as per the packet instructions.

Once the squash is cooked, drain the water and pop back on the stove with the heat on low. Mash until the squash is relatively smooth.

Add the milk, oregano, lemon and nutritional yeast and stir well. As it's heating up, season well.

Once the sauce starts to bubble, turn the heat off and stir in the spinach. Add the pasta and mix well.

Serve immediately, topping with the pumpkin seeds and spring onions.
Notes
Nutrition